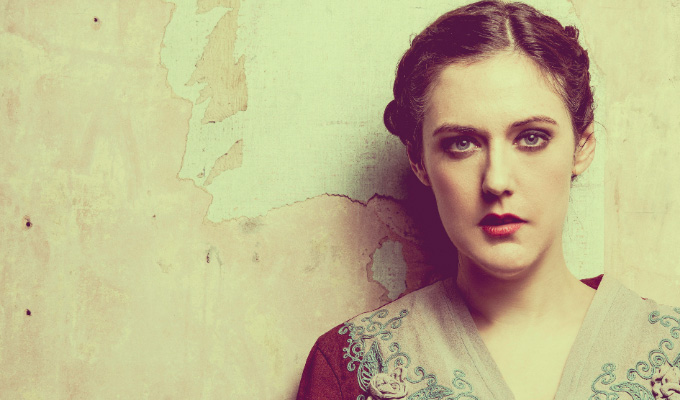 Gráinne Maguire: Gráinne with a Fada
With a gently manic intensity that repels boyfriends and panel show producers, Gráinne Maguire outs herself as a try-hard in her latest hour.
Hilary Clinton, Geri Halliwell, she's in distinguished company with women whose degree of effort suggests they crave recognition a little too much. Born into a big Irish family with 60 cousins, she was determined to be her granny's favourite, embarking on a stand-up career of sorts at four years old, desperate to win back some of the parental attention bestowed upon her sick sister.
Suspicious of the coy and resentful of those, who, like her widely adored cousin, make no effort to overcome their shyness, Maguire will do anything for attention. She's a staunch feminist – the best feminist, she maintains – who'll affect a fit of the vapours if the situation requires.
After all, she's proudly named after a medieval pirate queen. And is a founder member of the Gráinne Appreciation Society, promoting her overlooked, mispronounced sistren to a resistant United Kingdom, the sharp-elbowed angst of living in London perfect for exacerbating her nervous energy.
Conscious of how to spin her immigrant status, with her naïve serving wench act proving catnip to posh English boys, Maguire took Brexit as a mixed result, a personal rejection but one that's also delivering plenty of the drama she thrives upon.
And that's Maguire's appeal in a nutshell, the melodramatic personal intertwined with withering, clear-eyed analysis of politics, identifying the very human failings behind the likes of Clinton, David Cameron and Theresa May's public humiliations. It's not always an easy balance, and she starts out with a tone bordering on the hectoring in conveying her wannabe drama queen credentials. You empathise with the young girl her parents once paid to be her friend, if only to give themselves a break.
At her best though, Maguire is sarcastically and scabrously hilarious, rubbing her pregnant-with-possibilities Irish passport in British faces and archly characterising her move to London not as attraction but flight from the regressive women's rights of her homeland.
The satire is aggressively punchy and the presentation grotesquely exaggerated. Still, she does afford a rare, sobering image of her former job in a London chocolate shop, her whimsical suggestion to an English customer prompting him to belittle her with one of the oldest stereotypes in the book.
Returning to her core theme, she argues that male comedians can advance whatever agenda or hack material they like without being defined by their gender, unlike their female counterparts.
Damned if she's opinionated, she may as well embrace being a try-hard to make salient points. And she does that consistently in routines disguised as, and informed by, self-centred navel-gazing.
Review date: 20 Aug 2017
Reviewed by: Jay Richardson
Recent Reviews
What do you think?