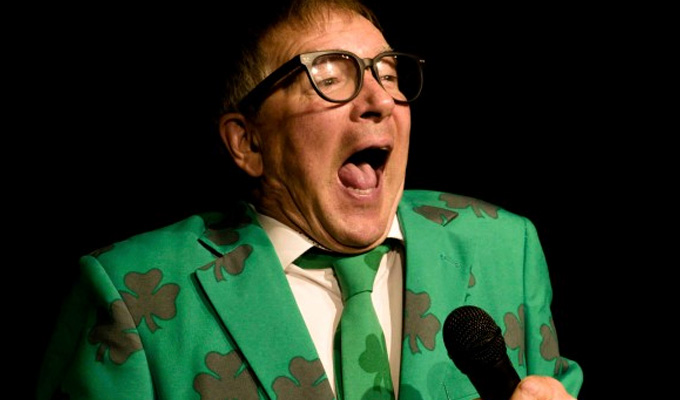 Frank Carson: If I Didn't Laugh, I'd Cry
Dead comic plays are a staple of the Fringe - but even so who would have expected two separate productions about Frank Carson in Edinburgh this month, more than five years after his death? He was a great stand-up and all, but probably not in the national treasure league of Eric Morecambe or Tommy Cooper, who've previously had the theatrical treatment.
At Assembly, veteran Fringe producer Guy Masterton is staging the Carson tribute Rebel Without A Pause, with Dan Gordon in the lead role. While this one, in the Gilded Balloon, was created by comic Mike McCabe, who worked with the rapid-fire gagster in the 1980s and 1990s.
The piece doesn't delve too much into the character of the Belfast-born funnyman, but uses some biographical vignettes to link facsimiles of his act, offering another chance to hear many of the gags he was famous for (and a couple pilfered from elsewhere).
We meet Carson as he recovers from the heart surgery he had in 1976, and he ruefully runs through a few gags in front of the mirror as he recalls his life to a woman called Josie, whose photograph is by his bedside. It's not 100 per cent clear who she is.
Over these reveries, he tells of how his life was turned around when he won Opportunity Knocks, how he was devoted to his wife of 50 years, how he once met the Pope and how his TV career waned with the coming of alternative comedy and he was branded a racist. McCabe repeats the protests of the old guard at the time, that alternative comedy wasn't funny, was often cruder than they were, and that the comments they were being pilloried for were only jokes
The only revealing segment, vividly told, is from his national service with the Parachute Regiment, where he once shot a sniper who had shot him in the leg and where he narrowly escaped death when a bomb went off outside a cinema, killing all seven of the servicemen he was with. The suggestion, frequently espoused during Carson's lifetime, was that his endless stream of gags was a way of blocking out the tragedy.
And jokes we get here, as McCabe retells scores of them: "She said I was a lousy lover. How can she tell in 49 seconds?', 'I don't tell political jokes – too many get elected', Or the gag most closely associated with Bob Monkhouse: 'I'd like to die like my dad, peacefully in his sleep, not screaming like his passengers.'
He's a decent impressionist, and in a recreation of Carson's days on The Comedians TV shows gets to showcase a few more: Bernard Manning, Stan Boardman, Ken Goodwin – all accompanied by a laugh track. (Well, sometimes. The tech seems sleepy today, missing some cues and often firing the audio midway through setups).
This section only reinforces the idea that this 'play' is not a character study, but a chance for McCabe – father of current circuit act Milo – to dust down the old jokes and showcase his mimicry of long-dead comedians. To do, in other words, an act that went out of fashion 40 years ago. It's not a cracker.
Review date: 20 Aug 2017
Reviewed by: Steve Bennett
Recent Reviews
What do you think?