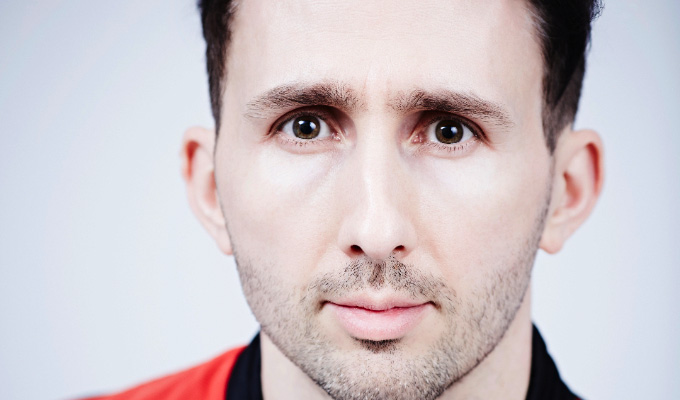 Nathan Cassidy: The Man In The Arena
Note: This review is from 2017
Nothing to do with the O2, Nathan Cassidy's title refers to Teddy Roosevelt's classic speech in which he said: 'It is not the critic who counts; not the man who points out how the strong man stumbles, or where the doer of deeds could have done them better. The credit belongs to the man who is actually in the arena…'
For this is a show hitting back at reviews – the subject also of the hot-ticket theatre show Wild Bores. Or in particular, it's a riposte to a three-starrer he got last year which dismissed his act as able to 'make you feel slightly better for an hour or so'.
Whether an audience will particularly care about his reaction to an old review is a moot point. I'm not sure I was that concerned by it, and I wrote the original. So I can only imagine what appeal this premise might hold for a disinterested punter.
Cassidy here imagines himself greater than Bill Hicks, adopting an arrogant, hectoring stance that's ironic – protesting that he cares not for reviews while dedicating a show, on and off, to trashing one. But it's difficult to penetrate, given his refusal to bow to any suggestion of likability.
You need to be relatively comedy-savvy to know what he's doing, let alone pick up on references to hack punchlines or Abandoman, whose whole improvised rap shtick he cack-handedly tries to ape. Again, the facsimile is fumbled on purpose.
Cassidy likes tricksy set-ups that constantly plays with the audience, but the problem is that the audience don't necessarily know the rules of the game, and he makes it hard for them to learn them. What to make, for example, of speaking at some length about the Paris car crash that killed Princess Diana, while wilfully avoiding mentioning her? It comes across more cocky than playful.
Linked with the main theme, Cassidy also discusses the concept of bravery, considering Denis Leary brave for stealing Hicks' material for instance – what it must take to be so blatant! Cassidy also tries to prove he's courageous by cracking provocative jokes – the one likening ISIS to One Direction is a good 'un – although he also argues that the public don't really like truly brave people anyway.
In the final furlong, he relaxes his hard exterior a bit, acknowledging the challenging nature of the show and making it slightly easier for the audience to get on board… but it's too little, too late.
The ambition of Cassidy's heavily structured 45 minutes is admirable, but I found the topic too solipsistic and the execution too brutally confronting to coax the audience in. But then, as we've established, it's not the critic who counts.
He is, I suppose, brave in his refusal to compromise in the name of making sometimes good jokes more accessible. But we know what the masses really think about brave people, as he already told us.
Review date: 20 Aug 2017
Reviewed by: Steve Bennett
Recent Reviews
What do you think?