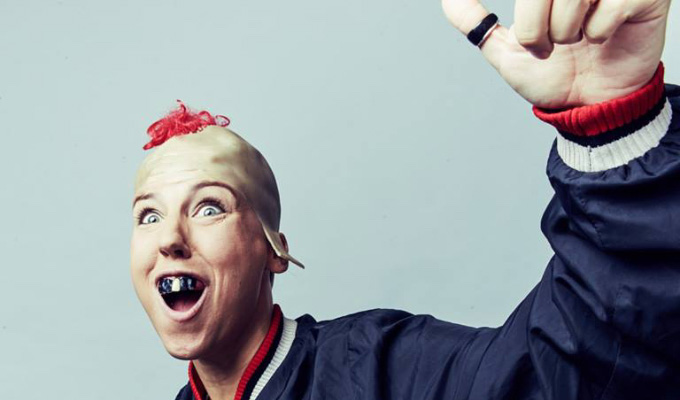 Marny Godden is One Tooth
Silly and committed, Marny Godden is one of the more peculiar acts to grace the Fringe, although dedicating a full hour to a single, odd character – with heavy emphasis on audience participation – proves too much of an ask.
One Tooth is, undeniably, a daft and unique creation. A Cockney punk realised via a Mohican wig, false choppers to give the impression his mouth contains just one lonely incisor, and – a lovely touch this – a toothbrush to mimic a headset mic.
He cuts an intriguing presence as we try to figure out what he's about, other than being something of a geezer. The song about an illuminating chicken to the tune of the Hokey Cokey doesn't really help, though it's definitely an earworm and enjoyably surreal.
Biographical detail, of sort, is filled out with odd stories from his schooldays, with the conclusion that education can 'do one'. Then there's a silly story with a rather brutal ending that lands One Tooth in hospital and planning new adventures with his ward-mate. This is where the audience participation – and the problems – began.
What was not in Godden's control was the oddly rowdy afternoon crowd, and though she tried valiantly to engage them, admirably sticking to character, she eventually had to throw two guys out from the front row for constantly chatting, while the back row (their mates) got disproportionally over-excited whenever they were included.
Issue two was that the main guy she chose to be One Tooth's partner-in-crime really didn't want to be there, and kept saying as much. He was eventually persuaded, but couldn't get back to his seat quickly enough, only for Godden to insist he get back on stage. I think we all shared his embarrassment, a bit.
Even with a pliant volunteer, though, this section would surely have felt over-long, seeming like a resort to interaction to pad out the hour when material ran dry. It's a rambling, not always coherent story that's hard to invest in (why did we jump from a pool hall to being in 'nature'?). A visit to the Battersea Funfair as part of the adventure produces some tooth-based carnival games for more interaction – though they only cause more confusion than laughs.
There's some attempt at a 'be true to yourself' moral, but themed and structured storytelling is not what the show's about, while the energetic punk finale ensures the hour is seen off with a proper Cockney knees-up (or rather feet-up, since it's all about pogoing)
One Tooth is a uniquely absurd creation – but on this evidence, an hour of him's about 40 minutes too much. But maybe I just can't handle the tooth.
Review date: 19 Aug 2017
Reviewed by: Steve Bennett
Recent Reviews
What do you think?