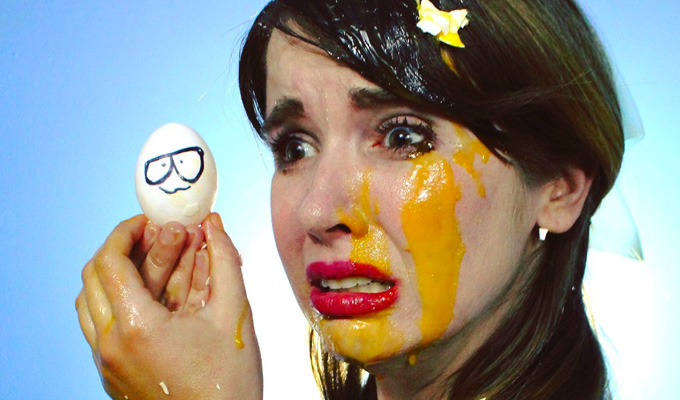 Natalie Palamides: LAID
Note: This review is from 2017
Although it's tempting to consider LAID philosophically from the perspective of the chicken and the egg – does audience reaction provoke the spectacle or vice-versa? - Natalie Palamides's barnstorming Fringe debut largely bypasses the intellect for an unforgettably visceral experience.
Symbolic of fertility, fragility and food, eggs prove themselves the most versatile of props as the American performer throws any number of them into her clowning tour-de-force. In one respect, LAID is an absolute mess, with hastily cooked omelettes only the start of the punishment that the tarpaulin-covered floor endures.
There's also unmistakable structure, though: the circle of life as Palamides agonisingly produces an egg from beneath her dress, to her mourning as she makes the harrowing decision to eat it, the pain writ large across her face belying the speed of the process. We give birth astride the frying pan.
Within this cycle, there's the ritual of the morning routine, albeit if conceived by David Lynch. Shaving with toothpaste, cleaning teeth with a razor, Palamides projects a cutesy yet nightmarish parody of small town, white picket fence America, hurling her wet newspaper back at the paperboy and warmly greeting the local paedophile. Sex and death lurk beneath a thin veneer of civilised respectability, with participants from the crowd treading on eggshells around her mood swings.
From this framework, she deviates more and more each time, instigating shocking surprises as the audience participation incrementally builds. The introduction of jeopardy is a term too readily attributed to comedy shows. But here it's palpable, with no one in the crowd wanting to let the side down, encouraged in overcoming their inhibitions by Palamides's extreme example.
Happily, the temptation to pun on the word 'egg' is largely restricted to characters who get what's coming to them. And Palamides staggers you with her resourcefulness in packing quite so many of the yolky foodstuffs into the hour.
A graduate of Dr Brown's clowning course, she's produced a more verbal, accessible version of his best work, with the man himself, Phil Burgers, credited as director and co-deviser here, visibly smiling in the tech box. She sends you out into the world with a broad grin on your face; Palamides's crouching ovulations deserve all the standing ovations she receives.
Review date: 18 Aug 2017
Reviewed by: Jay Richardson