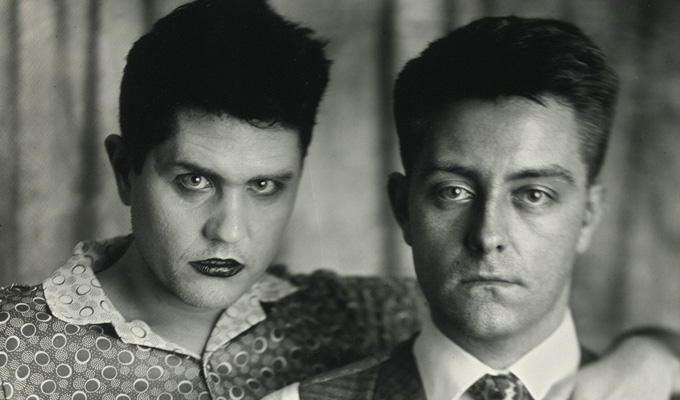 The Death Hilarious: The Scum Always Rises
Alert the cosmologists. A new source of dark matter has been found, and it's in the Pleasance Attic.
Sinister and with a barely contained aggression, The Death Hilarious combine a creepy physicality with a twisted sense of humour, then deliver with full-tilt performance that ratchets up the tension before releasing it with a grim gag.
Their opening sketch sets out their stall as the double act play couple of 'demonologists' from America's Deep South with full evangelical zeal, prowling the tiny room as they seek Beelzebub himself to exorcise from one lost soul.
But even when the intense sketch ends, there's something not quite right about these two. Darren J Coles, a kohl-eyed transvestite, has an air of satanic unpredictability, while Glenn Wade appears more like a cold-blooded serial killer, outwardly respectable in his three-piece suit but harbouring an horrific secret.
They are funny, though, even while they keep their audience on edge. The League of Gentlemen are an obvious waypoint, but these misfits have harsh sensibilities of their own, flavoured with the sort of poetic delivery often associated with their native Wales.
We also meet a motivational speaker with a surefire business plan to monetise laughter, hear a Broadway-style song about 'ass babies' and hear a sample of the pair's allegedly family-friendly double-act Apples And Oranges, which nonetheless reveals more darkness in their psyches.
Most memorable is the dark yet puerile sketch in which Coles becomes a homemade sex robot. It's a brilliantly funny image, even if they probably didn't need to push the depravity for quite as long as they did. However to try to limit this pair's excesses is a fool's errand, even if that wasn't the only time a sketch could have happily shed a couple of minutes. Similarly, the John Merrick quickie didn't need to recur.
But The Death Hilarious are a bold and unique new voice in comedy. Even if it is the sort of voice that leaves a chilling, whispered 'I know where you live' on your voicemail
Review date: 18 Aug 2017
Reviewed by: Steve Bennett
Recent Reviews
What do you think?