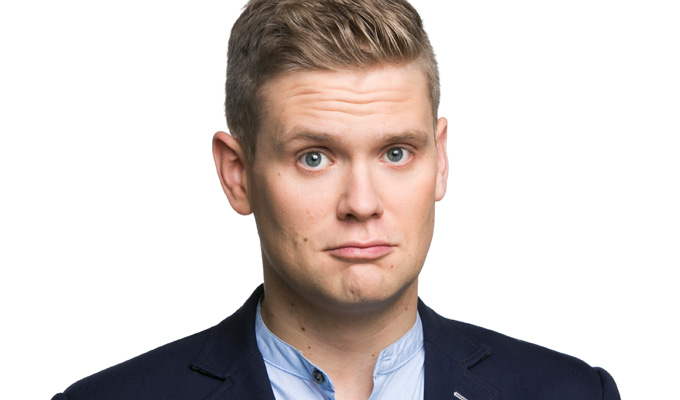 Ari Eldjárn: Pardon My Icelandic
As a wide-eyed, sweet-natured idiot savant making dopey comments from a remote island in the windswept North Atlantic, there's something of the Father Dougal about Icelandic comedian Ari Eldjarn – and not just a passing physical resemblance to Ardal O'Hanlon.
He uses his naive, slightly bewildered demeanour to good effect when mocking English customs that seem alien to him, such as getting a round in. But it's soon clear that beneath his unassuming exterior is a smart, savvy comedian with a hugely assured set, even in a second language.
His homeland is, of course, the root of much of his humour, since it gives him a unique edge. While we are familiar with the national traits of a lot of our European neighbours, Edjarn opens a shutter on the Scandinavian bloc, educating us to a whole smorgasbord of new national stereotypes, making witty observations as he goes. And his Danish James Bond is priceless.
You don't see too many jokes about the Faroese language being cracked on Live At The Apollo… but Eldjarn is good enough to make you think that one day, you will.
He is described as Iceland's biggest comedian, which sounds impressive until you realised the entire nation has a population of 335,000 – which makes it slightly smaller than Cardiff. And from what Edjaran tells us, that comes with a certain 'small nation syndrome', overly keen to prove itself on the world stage, whether that means winning Eurovision (it never will) to beating England at football (it never will… stop going on about it).
Not everything is about his homeland. He recreates the demands of his baby daughter as if she were a demanding Game of Thrones despot, while his background as an air steward gives him airline material that stands apart from the hack. And linked to the earlier Bond impression is a perfect mockery of a whiney American.
Nothing in his tight set is lost in translation, and it's all presented by an engagingly cheery fellow, more mischievous Nordic elf than brooding Scandi-noir darkness. Ari Eldjarn's certainly a name to watch, even if you can't pronounce it.
Review date: 17 Aug 2017
Reviewed by: Steve Bennett
What do you think?