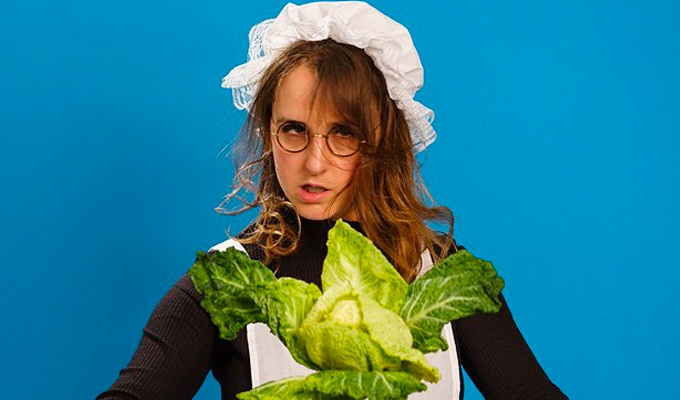 Lucy Pearman: Maid of Cabbage
Note: This review is from 2017
Full marks for commitment to the idea, however loopy. Lucy Pearman's full-length debut is based on the entire premise that an unmarried maid 'from the olden days' is tasked with finding the perfect cabbage for the lady of the house.
Is that enough to sustain a 50-minute show? No, as it turns out, not quite. But her alter ego – an unlikely mixture of endearing, naive and perturbing – holds enough strange intrigue to make the journey more of a delight than you would expect.
Our servant girl is quite the optimistic type, eager to do well in her new job and maybe secure the hand of her soldier-boy lover, with his 'musket, fife and drum'. Yet her life between the villages of Upper and Lower Piddle is no bucolic idyll, as her quest seems impossible and she must fend off the wandering hands of her creepy employer. She puts on a brave face, but push her too far and her repressed 'bad side' will be unleashed. It truly is a terror – but a daftly realised one.
We, the audience, are drafted in to help with the cabbage-hunt, with various cruciferous vegetables handed out around the crowd. Later, we help answer the ridiculously cumbersome telephone while individuals are singled out to play a couple of roles, involving one which makes good use of Pearman's knack for awkward physical comedy.
Her imploring eyes prove very persuasive, and the participation is warm-natured, even if she's not always clear in the instructions – deliberately so, to provide moments of confused spontaneity. It is no surprise that Pearman – once part of the LetLuce double act – studied at the Philippe Gaulier clown school where the likes of Doctor Brown learned similar tricks before her.
But Pearman certainly has a uniquely peculiar mind of her own, creating this utterly bizarre scenario, yet being an engaging enough performer to pull it off and keep us all on-side throughout the surreal shenanigans. And you can add puppetry to her talents, too, in a spirited animation of the creepy master of the house.
The narrative fizzles out with a strange bit about a mystic egg – strange even by the very generous standards of what had gone before – but if you are seeking the sort of Bona Fide Fringe experience unlikely to find a home anywhere else, follow the cabbage.
Review date: 17 Aug 2017
Reviewed by: Steve Bennett
Recent Reviews
What do you think?