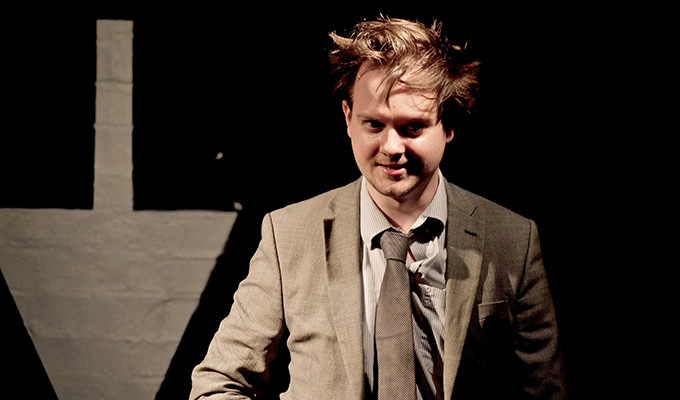 Andy Barr: Tropic of Admin
This is a charming late-night curiosity at the Dragonfly pub.
We are not the audience, but stranded passengers on a tropical island, victims of a terrible plane crash that we were lucky to survive. Andy Barr was already there, though, a survivor for six years on that little island.
Now we join him on the quest to stay alive and keep on top of all the admin. Because Barr is a school administrator in real life, and obviously couldn't face spending his summer holidays without any forms to deal with.
Barr's execution of the show marks him out as a rookie, he performs from behind the eyes, not exactly a great salesman of his own comedy. But he makes a virtue of this – the show's under-stated, gentle pace is part of its quiet joy. The reason the whole thing works is the strength of the concept, and Barr's commitment to it, even if the execution needs sharpening up.
It's just such a lovely idea, creating all the admin for a tropical island. Barr appoints one chap as head of HR, and we all become coconut acquisition operatives. One woman has to submit a coconut permit request because she didn't have hers with her.
Barr tries out motivation techniques on us to make sure morale stays high. It's delightful. It's not dissimilar in feel to Tim Key's full-length shows (without the occasional bursts of anger), and the way Barr takes his time, luring us in, is John Kearns-like. The show is soundtracked by an entertainingly odd selection of music (again, a Key-ish touch) and the sound of waves rolling against the shore.
A couple of misjudgements detracted from it: there is a lot of crowd work in the show, and a few people took advantage of the fact that he hadn't exactly established himself as the alpha presence in the room, by trying to dominate. Barr enables this in the first place, and doesn't try very hard to control them either, which I think was a mistake.
And towards the end, Barr breaks the spell by revealing that he hates himself in reality. This sort of thing has become a bit of a cliché in solo shows, and, of course, it's hard to go wrong with a good dose of honesty in a show. But having created such a world in this tiny back-section of a pub, why spoil that? Topic Of Admin would be no worse if Barr held his nerve till the end and left the confected breakdown out of it.
However, it's a show that has stuck in my mind, a lovely low-key way to end your day.
Review date: 16 Aug 2017
Reviewed by: Paul Fleckney
Recent Reviews
What do you think?