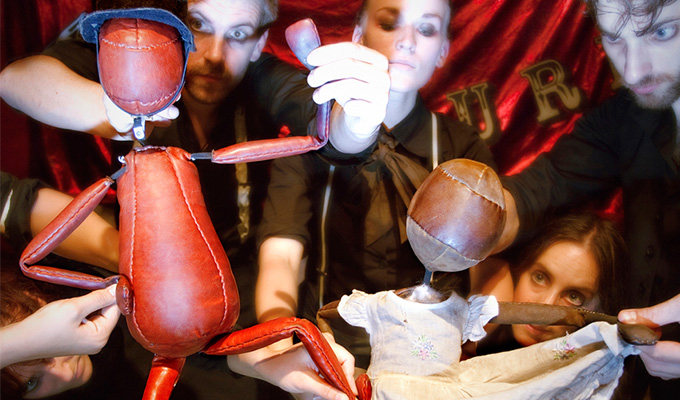 Boris & Sergy's One Man Extravaganza
Old-fashioned variety acts can be a hard sell to modern comedy fans, but Nina Conti proved that in the right hands, they can be as knowing and funny as anything else.
Boris and Sergey by Flabbergast Theatre goes some way to achieving a similar kind of reboot for puppetry, though it still feels far more like a theatrical experience than a comedy show. Their choice of venue backs this up – the Assembly's Omnitorium, which is a lovely little circus-style tent tucked round the back of a university building.
The story revolves around two brothers, the brash and youthful Boris, and the wise and pretentious Sergey, both of whom look like they were fashioned from Easter eggs. Both brothers are entertainers, but when they go their separate ways to each do a one-man show, they fall out, with Boris becoming a diva overnight who can't remember his brother's name, and Sergey hitting rock bottom on the streets.
With the puppeteers in full view for the whole show, there is plenty of scope for playing with the form, and the puppeteers do indeed become part of the action, no longer 'invisible' but complicit in the plot's twists and turns.
The actual puppetry is at times very impressive – witness the masterful tap dance routine, and the big duel at the climax of the show. The scene where Sergey falls into destitution is another highlight which borrows film tropes to convey the drama.
For humour, Flabbergast rely on the transgressive shock value of puppets swearing and talking about cocaine, and don't come up with much beyond that. They do crowbar in a game show called What's in the Box?, which has the potential for a few laughs but falls short.
Not only that, it reveals something of a comic deficit in the two main performers, who get frustrated when a randomly selected woman in the audience doesn't know what to do, and the whole thing ends up being laborious and an interruption. Performers with more comic experience would have handled this better and prevented this section becoming awkward.
The storytelling is strong throughout – until the end, that is. The showdown between the two brothers (and a mysterious Scottish lady who delivers a few surprises) is drawn-out, as if they couldn't decide between about five different endings and so threw them all in.
Flabbergast are clearly a gifted puppetry troupe, making something small feel something big, but as a comedy show Boris and Sergey is found wanting.
Review date: 15 Aug 2017
Reviewed by: Paul Fleckney
Recent Reviews
What do you think?