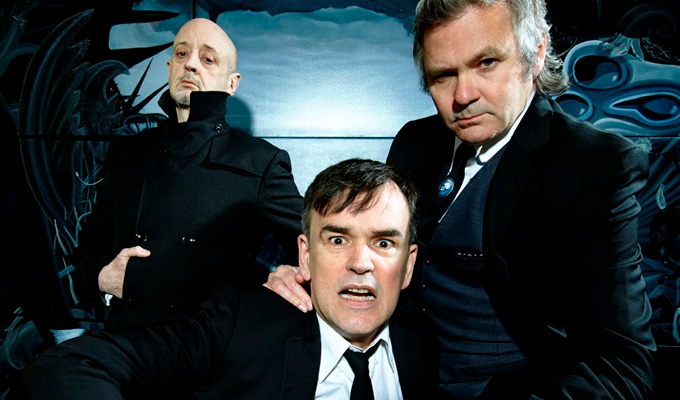 Doug Anthony All Stars: Near Death Experience
Swan songs shouldn't have encores – but the Doug Anthony Allstars never did play by the rules.
The one-time bad boys of the Fringe made a stunning comeback last year, confronting their decay in a way that was just as rebellious in its taboo-busting way as the more physical anarchy they spread in their first heyday. No one would have blamed them for resting on their laurels after assuring their legacy with that triumph – yet back they come with a new show, but the same flagrant lack of respect.
As before, Tim Ferguson's multiple sclerosis is the source of the most transgressive jokes, with frontman Paul McDermott savage in his cruel mockery. He plays the long-suffering carer racked with frustration at having to look after his friend, whom he'd frankly assumed would have been dead by now. His only rebellion is to chuck out the insults, and tape offensive slogans to the back of Ferguson's wheelchair. The underlying decades-old friendship, which gives audiences permission to laugh at this hurtful stuff, is buried a bit deeper than before.
The angle is that McDermott feels his cohorts are holding him back. 'What am I, a "normal", doing between a pensioner and a cripple with my career in the ascendancy?' he asks, echoing the message of this show's theme song and ignoring the fact he wouldn't be here without them.
The pensioner is Paul Livingston, who long ago replaced original guitarist Richard Fidler. He opens the show as his deliciously weird alter-ego, Flacco, reading the sort of jokes the Two Ronnies might once have done, but with a creepy undercurrent in delivery. Then he brings on the rest of the gang with a string of adjectives including 'fetid', 'rank', 'repugnant' and 'sick'. The tone is set.
It's a similar introduction to last year, for a show which reprises many of the themes. Ferguson plays up the notion that his medication has sent him to la-la land, calling for 'the whistle song' throughout the show, Even while they are actually doing the 'whistle song'.
Again, his real lucidity shows at the end when he briefly reminds us how little time we all have on the planet. As they play out to their cover of Throw Your Arms Around Me, a video plays of them singing the same song 25 years ago - another reminder of the passing of time, even if McDermott's voice is rich as ever.
They also tackle sex, of course, even if it might be an eye-opener for the young teenager sat front and centre of this late-night gig, and get political, with a song about the brutality of Australia's immigration policies. The jokes are often pretty harsh, with the Allstars not always giving the easy option of a light laugh to sweeten the reality. But there is a vitality to the performance, in McDermott's ageing rock-star posturing, Livingson's impassioned guitar playing or Ferguson's lobotomised cheeriness.
Doug Anthony Allstars may be a three-headed reminder of mortality, but they are also a call not to go quietly into the night; to face ageing with a song, a whistle and a 'fuck you'.
Review date: 15 Aug 2017
Reviewed by: Steve Bennett
Recent Reviews
What do you think?