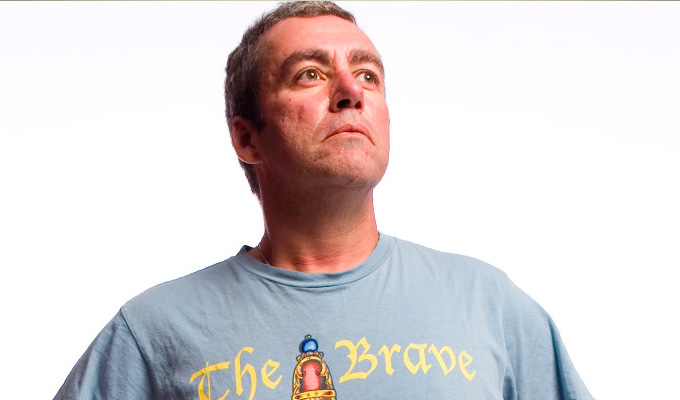 Simon Morley: Naked Ambition
Dong! It's 2.40pm, so helmets on and chocks away for an hour-long presentation, in which Simon Morley tackles the question of how Puppetry of the Penis got the world standing to attention. On a well-hung projector screen, Morley takes us through the ins and outs of the show, from its conception in the bedroom of his family home, to the eye-watering beast it became in the late-1990s and early 2000s.
Morley whips out videos of him and his partner in penis, David Friend, on stage in London and New York. He also flashes up old photos of the 'dick tricks' they would do during the show: the fruit bat, the hamburger, the skateboard, the windsurfer ('note the handrail detail' he says, standing proud on stage.)
But it's a meagre package. The flaccid show starts to really droop after about 20 minutes. I was hoping for laughs, but the few jokes on offer were as weak as a baby's arm, so we were shafted on that front too.
What's more, the show takes place in early afternoon – do I really want to listen to an old chap wanging on about past glories and showing us inflated dick pics? Not especially, I've only just swallowed the contents of my lunchbox. And there's not even any tension about whether he's about to whip his clothes off – no willy, won't he?
Sure, he exposes the realities of a global phenomenon, lets it all hang out, and pricks some of the myths people might have had about Puppetry of the Penis. And yes, this guy's manhood was the world's most unavoidable penis until Piers Morgan came along. So he has stories to tell. All we could do as an audience was sit there like plums, keep our pecker up, and listen. But by the third leg, I was ready to withdraw.
Most of all, I wonder what the point is. He probably doesn't need the hard cash. And why would anyone want to go and listen to a penis celebrity speak? You wouldn't go and watch Otis Redding draw.
Puppetry of the Penis is still bringing pleasure to thousands, night after night, its stamina legendary, but Naked Ambition is destined for the knacker's yard. It's not absolute balls, but it is limp and lacking girth.
Review date: 14 Aug 2017
Reviewed by: Paul Fleckney
What do you think?