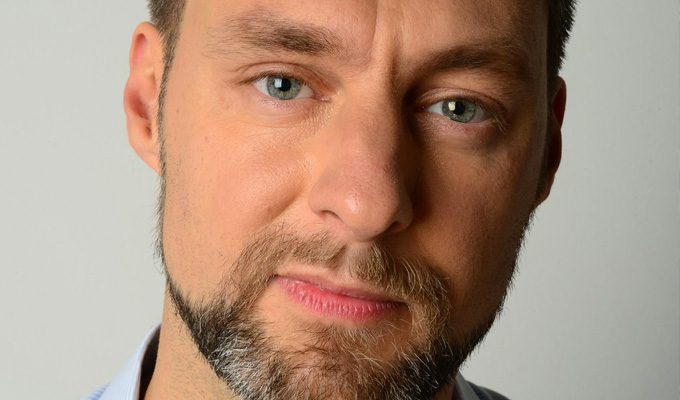 Leo Kearse: I Can Make You Tory
Note: This review is from 2017
It's not a move that will do much good for Leo Kearse's plan to soften the Tories' image – but this show was defined by an act of intolerance.
Less than ten minutes' in, and the comic abruptly stopped his flow and threw out an audience member at the back… for nodding too much. Though clearly distracting to Kearse, the guy had not been noticed by anyone else, so the pre-emptive strike – very aggressive in tone – came out of the blue, and soured the mood. Why had the stand-up turned so nasty?
The method of his departure suggested the arrogant punter would probably have caused more serious disruption later, but Kearse lost a lot of audience sympathy for the way he handled it.
But back to the planned show, or as much of it that was left after that disturbance…
I Can Make You Tory is a provocative claim at a liberal arts festival, and one that Kearse didn't fully embrace. By the end he was just telling sex stories, which seemed a long way from the bold statement of intent implied in the title.
Politically, he sneers at virtue-signalling liberals, who surely deserve it, sensitive snowflakes concerned with 'microaggressions', and the idea that there are 328 possible genders. Despite mocking such extremes, Kearse makes the case that the Tories are actually a progressive party, having had two female leaders and seeing through marriage equality legislation.
His pro-Tory arguments are reasonable, if not the whole story. Domestically, he makes a case for nuclear energy being statistically safer than coal-mining, which is certainly true if an unfashionable viewpoint: there is a hypocrisy in being anti-fracking but pro-coal, but even Labour want to phase out coal-fuelled power stations.
Kearse doesn't really do detail though, as he prefers to rail at communism as an unworkable system, evoking the gulags, rather than the the actual opposition of a relative centre-left party that, at least in its mainstream, doesn't want to dismantle capitalism, just rein it in a bit.
Most of his jokes about big-issue politics are too broad, and often not that original. On climate change meaning East Anglia is underwater – no great loss – while mountainous Scotland is not just OK, but warmer too, is as hack as it is trite, and how many commentators have said the Boaty McBoatface vote means the public shouldn't have been trusted with the Brexit referendum? For the record, Kearse is a Remainer, for entirely economic reasons.
Given that this was a show aimed at upending opinions, I Can Make You Tory often followed a familiar orthodoxy, though the stand-out moments were when he didn't join the comedy crowd – for example taking David Cameron's side on the old pig's head story.
He rattles through his material – perhaps trying to make up for lost time – and his script features a lot of gags, many at the expense of poor old Dumfries, even if the quality is variable. Some are pretty good and there's a couple of brutally hard-edged lines that really make an impact - but the bulk of the show, both in the opinions espoused and the jokes he told, was just too… well, conservative.
Review date: 13 Aug 2017
Reviewed by: Steve Bennett
Recent Reviews
What do you think?