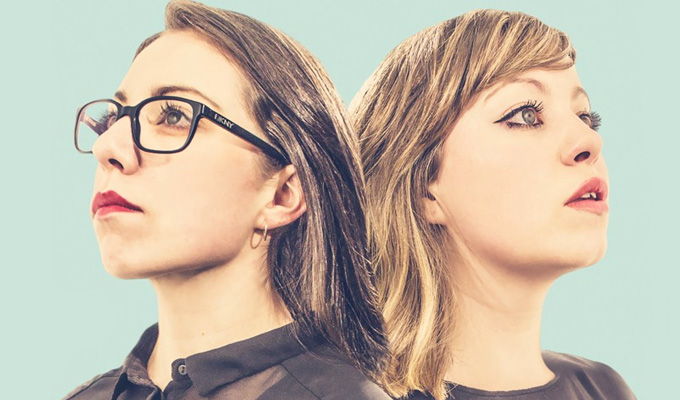 Flo & Joan: The Kindness of Stranglers
I don't think I've ever sat in a Fringe show before and thought 'Gilbert and Sullivan!' but that's the sort of thing that can happen when you're watching Flo and Joan. They're a throwback act, seemingly transported from another era of politeness and pithy understatement, but with a dark comic edge.
They snuck on to the radar last year with their debut Edinburgh show and viral hit about what a horror show 2016 was, and The Kindness of Stranglers is their follow-up.
Their go-to style is old-fashioned ditties that rattle along at 100 words a minute, in the way Victoria Wood used to do it. They have a few like these, including their laugh-out-loud opener which asks some of the key questions about life. The only drawback is that it's the best song of the show.
Consistency over the hour is the only thing that lets them down at the moment, and that applies to the between-song patter as well as the songs. Sometimes the script is tight and their personas strong, and they play the sister card well, alternating between presenting a united front, and bickering with each other. But when the mask slips and they just chat amiably, their schtick isn't as effective. Suddenly instead of being a proper 'act', they're just two people who have some funny songs.
The musical set-up is defiantly no-frills – the only instruments they use are piano and a shakey shaker thing (except for a surprise bit of jazz recorder). There's an undeniable flair to their songs, though. I enjoyed the Christmas number that is part-childish glee, and part-home truths about religious conflict. Here, it's not what they're saying that's funny, but how they're saying it, using the music itself to add to the humour. Bill Bailey is the ultimate example of knowing how the mechanics of musical genres work, and manipulating them to make people laugh, and Flo and Joan certainly have a bit of that about them.
They're pretty handy with a witty lyric too, as evidenced by their eerie a cappella folk song called The Lady In The Woods, which builds and builds like an old parlour game based on memory, the description of the lady getting longer with each chorus. This particular song is impressive in the way Flo and Joan wait patiently for the comedy to come, lulling you in with a joke-less few minutes before it unfurls. They also make the audience feel good for working out the next descriptive word that they're working towards. It's smart stuff.
A couple of songs were entertaining if not that funny, like their 'save the bees' ditty, and a faux-sexy song about the ridiculous lengths any suitors would have to go to to seduce them. It's like an early draft of the Flight Of The Conchords classic Business Time. Speaking of FotC, there are definite similarities, mainly in Flo's ultra deadpan delivery and the clever genre-hopping.
The Kindness Of Stranglers is a delightful and funny show. As performers, Flo and Joan (real names Nicola and Rosie Dempsey) still feel like rookies, but there's hell of a lot of promise there, and you wonder what they would be capable of if they moved beyond just using a piano and were let loose on all the tech that FotC deployed.
Review date: 13 Aug 2017
Reviewed by: Paul Fleckney
Recent Reviews
What do you think?