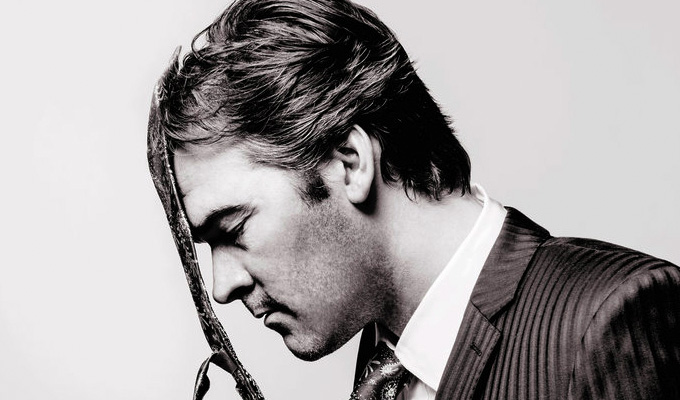 The Inane Chicanery of a Certain Adam GC Riches
After his ambitious venture into a multi-character narrative work in 2015's American sporting movie spoof Coach Coach – too ambitious, as it turned out – former Edinburgh Comedy Award winner Adam Riches is back doing what he does best. Just him, some batshit crazy characters and a whole lot of audience participation.
It is what we have come to know and love… in fact, those he dragged out of the crowd tonight were so good at their roles you'd swear they'd all gone on six-week improv courses in preparation, just in case.
But while the punters got big laughs from their sharp ad-libbing, it's Riches who is the enabler, setting up such brilliantly eccentric scenes and then handling the uncertainty of the ensuing madness with a particular blend of authoritarianism and laissez faire – rolling with the punches but taking control when needs be. It's fine balance, requiring him to essentially bully people into doing something then belittling them when they get it wrong, yet without undermining their confidence that would cause the gig to come crashing down.
Because it's such a comedic high-wire act, however intrinsically safe you feel in Riches' abilities, the rewards as so much higher when the sketches land. And tonight every one did.
Long-term Riches fans might be disappointed to learn that his oldest staple, Sean Bean, is not in the repertoire this year. But fear not he has a new alpha-male heartthrob to talk nonsense confidently in the guise of Gerard Butler, now running a sniper school.
We also meet a BMX stunt rider who does away with the bike, but not the danger, a fugitive cowboy with a penchant for the mouth organ, a creepy pick-up artist and the strangest calligrapher, who teaches the lost art of penmanship in a section that has its own creepy theme tune. Setting up a lesson in handwriting is certainly a change of pace for the usual high-octane insanity, but never fear, it doesn't pan out entirely conventionally.
Riches' creations would be peculiar and outlandish enough for him to build a sketch show around on their own merit, especially given that there are some strong scripted gags here, from unexpected puns to character-establishing one-liners.
But both the unpredictability and the ridiculous and occasionally gross situations he engineers – usually with himself as the prime victim – take his show to the heights of giddy elation a scripted offering can rarely hope to match.
Review date: 12 Aug 2017
Reviewed by: Steve Bennett
Recent Reviews
What do you think?