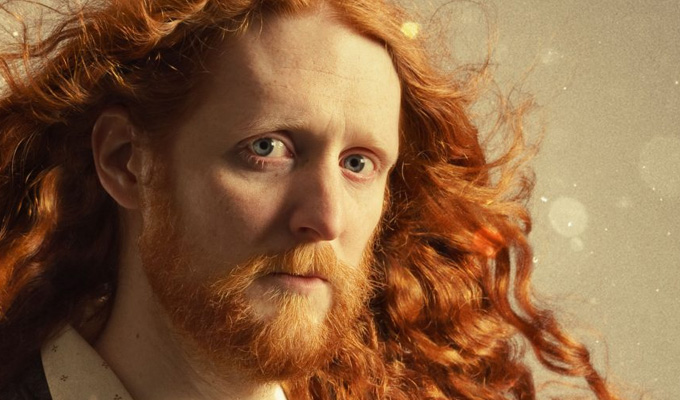 The Alasdair Beckett-King Mysteries
Note: This review is from 2017
If Alasdair Beckett-King is destined to for ever be 'the weird one' on comedy bills, then he is at least embracing this role. No one's forcing him to do material on communist health and safety posters, or adapting William Blake's Proverbs of Hell (which were new to me), it's his decision. And more power to him – having a niche can be a handy thing for a comedian.
His debut show, The Alasdair Beckett-King Mysteries, is full of this stuff. It doesn't particularly have any vital threads or narratives to it, despite that teasing title. Instead, it's a loose introduction to him as a comic. A marking of territory to other comics: I'm the next Bill Bailey, now get off my land. Bill Bailey without the music, that is.
It isn't just the long hair that connects ABK to BB, it's the middle-class pacifist vibe, the funky waistcoats, the measured pace, the educated hippie who's too friendly for anyone to really dislike. Both err towards surrealism, and like to do accessible routines on obscure or high-minded subjects.
Witness the Where's Wally? lampooning, which asks us to spot Jesus in various pieces of classical art. Or the Dictators With Pets photos which ends with a particularly Bailey-ish rug-pull.
Ever the easy-going chap, Beckett-King is happy to get several gags out of his own unusual appearance. He has good, visual jokes about looking like Biblical characters and not having eyebrows, and sure he may only be able to make those jokes once, but he also knows how to deploy a spooky look to help deliver a line, and that will stand him in good stead. His best example of this is when he compares objections to veganism to objections to the slave trade – which is, incidentally, a joke at the expense of PETA.
What marks ABK out from most people doing their debut shows is the invention. It's the show of someone who's got plenty in the tank when it comes to silly set-pieces and finding the inspiration for material in unlikely places.
Away from the visual and physical humour, his straight stand-up is occasionally really strong, like his objection to the phrase 'effing and blinding' and sexist reactions to hurricane names. Having said that, whether ABK realises that his joke about coincidences is an old Milton Jones one, I don't know. Probably just coincidence.
ABK's debut is bitty, it's a series of largely unconnected odds and ends he's come up with. If it were a mosaic, it would be a shit one. As a comedy show, it's a good watch, and is likely to be one of the best debut shows around this year.
Review date: 12 Aug 2017
Reviewed by: Paul Fleckney
Recent Reviews
What do you think?