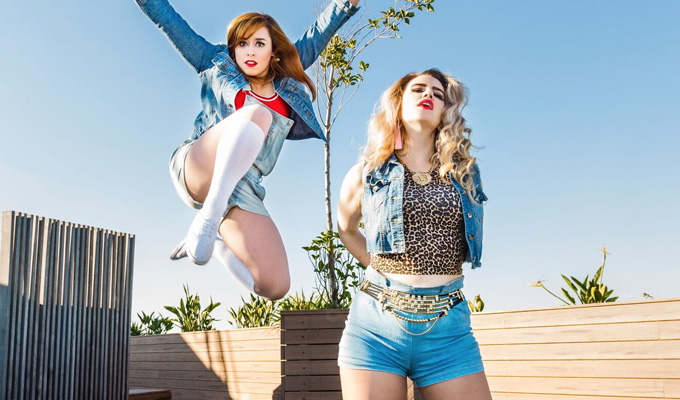 Double Denim
Dig out your finest dungarees; for there's a denim party here, and you're all invited.
Sophistication and clever-clever comedy go out of the window for an hour as the Gilded Balloon's Billiard Room adopts the vibe of a cheesy house party, complete with daggy dancing, pass-the-parcel, singalongs, cheesy snacks and 'sick beats'.
Aussies Michelle Brasier and Laura Frew host the spirited shindig with an energy that's as scintillating, colourful – and frankly tacky - as the LEDs in the soles of their trainers. And it's a delight. They are both terrible flirts, too – and by that I mean not very good at it, rather than incorrigible.
As an audience member, you've got to get involved, not only because the pair are so insistent, but because the party spirit gets you. Getting involved might mean getting dragged on stage, but it's all harmless, and infectious, fun.
The duo play this as teenagers, but with an added sense of perspective about the embarrassing deeds and hang-ups of their younger selves. The year is probably 2001, as the pin-ups are Britney Spears and Justin Timberlake, who wore their matching double denim outfits to the American Music Awards that year. And the megastars are coming to the party too! Though the payoff to this particular storyline probably doesn't need a spoiler alert.
There are a couple of skits in the show you could identify as actual sketches: a ballet mime, a date with an audience member, an interpretive dance depicting the breaching of the hymen, typical of a slightly risqué undertone as they explore teenage emotions about boys and figuring out how to fit in. But these ideas and set pieces are secondary to the aim of just having a ball, buoyed by the bottomless vim of our hosts.
Brasier and Frew have a warm, teasing rapport – doubling down on the lunacy as well as the fabric. They are so fluid it's often hard to see where a planned performance ends and ad-libbing, but despite such looseness, the never gets even close to self-indulgent. It is, in short, a blast.
Review date: 11 Aug 2017
Reviewed by: Steve Bennett
Recent Reviews
What do you think?