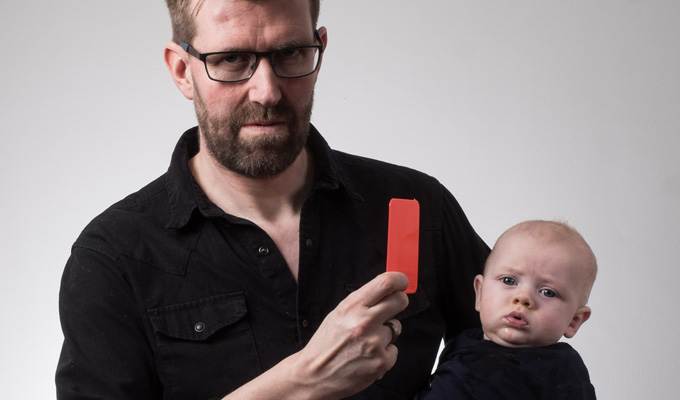 Andy Stedman - Parental Guidance
Oof, quite a painful hour in one of the upper-most corners of the Counting House. Andy Stedman has a show about being a new parent, and it's pretty bad. It was an hour of pointless chat with the audience, lame jokes, unfunny songs, and polite laughter.
To make matters worse, it was pretty inept. We were all issued with cards at the start to write down some advice we would give to our younger selves, to help Stedman in his quest to become a better parent. Ah, Chekhov's gun, I thought. He forgot to use the cards.
He then forgot the lyrics to some of his songs, and was generally over-reliant on cheat sheets to get him through the show, buying himself time by asking people inconsequential questions, sneaking looks at his notes while sipping from a seemingly bottomless can of Coke. Even when he points this out and makes a joke out of it, it's not done in a funny way. He also forgot people's names more than you can reasonably forgive a comedian. I pray that he just has a bad memory, not early-onset dementia.
Stedman tells us his previous career was as a singer-songwriter, so there were songs, which were a respite from the routines if nothing else. He adapted classics by The Jam and Human League but there was no lyrical flair to these cheeky cover versions, no funny premises to work from, nor were they performed with any showbiz oomph to make us sit up and take notice. The best thing about his cover of 'That's Entertainment', called 'That's Education', is the title.
To illustrate the crushing predictability of Stedman's material, in a song about how the bad people of the world could have been smoothed out by some better parenting, his choice of bad person was … can you guess … Hitler. So yeah he didn't exactly drill down into the subject.
It's indicative of his writing, which never seems to make it past the first, obvious thought. Consequently the show was littered with lazy old references: father-in-laws have strong handshakes, women are bossy, men are hen-pecked unromantics, the north is poor the south is posh.
His references are often dated, too – the theme tune he's written for the show plays with the tunes of Only Fools and Horses and Blackadder. Why not just make it Greensleeves and be done with it.
The stand-up material is similarly woeful, such as his dissection of well-known idioms like 'adding insult to injury', and the main purpose of the audience chat appears to be to kill time. His five-minute section at the top, harvesting people's names (a pointless activity as it turned out) and their relationship status was worryingly gag-free.
Later on, couples in the audience were invited to rate their other half out of 5 and recall how they were told about the birds and the bees, but it's not as if we're being used as a foil for some killer comeback lines. Sometimes it didn't even segue into a new bit, it just stopped. We all like a chat, but I don't think that's what anyone came in for.
Review date: 10 Aug 2017
Reviewed by: Paul Fleckney
Recent Reviews
What do you think?