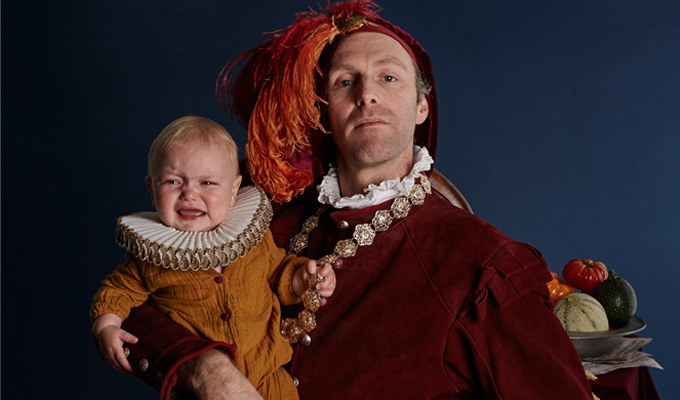 Trygve vs a Baby
Phineas Wakenshaw has to be one of the best newcomers on the Fringe. Just a few months into his comedy career – and indeed, his life – and he can hold a room transfixed.
The 13-month-old is the son, and now scene-stealing sidekick, of acclaimed New Zealand mime Trygve Wakenshaw, who crafted this unusual double-act almost as soon as he became a father.
Phineas is a natural on stage, unfazed by the audience and happy to play along with his dad's games at least some of the time. Other times, the smoke machine, the curtain or the monitor speaker prove a far more fascinating option, and off he toddles.
Wakenshaw Sr, who isn't an entirely silent mime, has done a fine job in creating moments they can share. In the first scene , he emerges as a 'wampire' and his son's task is to slay him; in the cutest scenario Phineas becomes a lion, pin-on-tail and all, and Trygve is his trainer, holding him back with a chair and trying to get him to 'leap' through a hoop.
There are scenarios that don't need the baby, too, giving the youngster some down time… but Trygve's made a rod for his own back with the format, as we're all just dying for the tot to make a reappearance, however visually funny dad is scampering across the stage like a spider, his long limbs used to perfect effect, or conducting an icky surgical operation.
Phineas gets a brief solo slot in the spotlight, too – as Hamlet. He's given a skull to hold as 'to be or not to be' soliloquy plays; his lack of interest in the speech surely only down to it offending his Shakespearean sensibilities that the skull comes from the 'Alas poor Yorrick' speech.
At this show, as much chaos was caused by the tech as Phineas wandering off-mission; though you can forgive such looseness on two-for-one day. There is, perhaps, a question of whether a man playing with his son, however entertainingly, really is a £12.50-a-head show – but it certainly disproves the 'never work with animals or children' maxim, as the baby is a star.x
Review date: 10 Aug 2017
Reviewed by: Steve Bennett
Recent Reviews
What do you think?