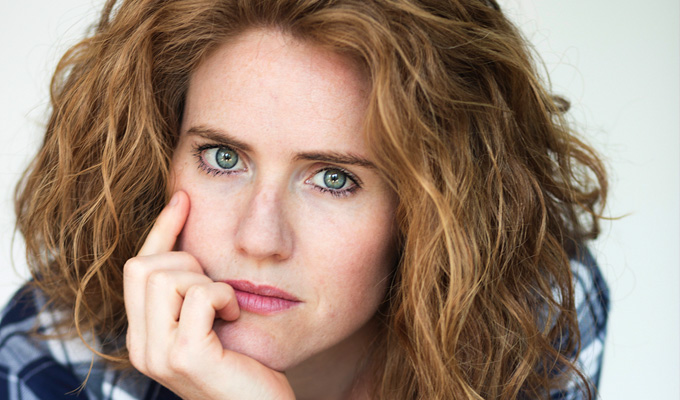 Sarah Kendall: One-Seventeen
Note: This review is from 2017
It's always a pleasure to sit down with a Sarah Kendall show, and this was no exception. Her style is deceptively simple, friendly, a straightforward 'no dramas ' attitude to welcome the crowd. She set out her stall: to tell a story about luck and the time it takes to fathom what's good luck and what's bad – a story of fate if you like. Then took us from a backyard in Newcastle, New South Wales, to infinite space, and everything felt just right.
I found her approach cinematic, with a verbal establishing shot of mum, dad and kids in the backyard; track in to hear mum's cartoony, strangled, anxious screech; see the nouveau riche Mike and Narelle next door.
Kendall is excellent at 'show don't tell' – she doesn't tell you about the neighbours, but a judgmental comment from her mother contained a wealth of information about the dynamics of the neighbourhood. She gave us stories within the story, a fable from her dad, a story from her friend Sally, a fantasy from Shirley, stories for son to live by; they permit the narrative to travel backwards and forwards in time, back to her childhood, to earlier childhood, to adolescence, to being a mum, to predicting her own funeral, her alternative funeral.
If I make it sound confusing, it wasn't. At times I felt I was watching a solo sitcom, a one woman Outnumbered, narrating in the Claire Skinner character. I could happily hear more of that in the future. The characters were given just enough detail to be vivid and realistic without being caricatured.
Recurring themes are the value of family, relationships, friends unexpected decency, and the fragility of the ties that bind us, but there's no Waltons' sentimentality here, nobody is better or worse than they seem (maybe Nanny Alva is the exception).
The spellbinding achievement was to suggest the interconnectedness of life without a breath of pretentiousness. Kendall told a series of overlapping stories, with a Russian doll quality, as each one emerged from a further flashback or another narrator, but she deployed her comedic skills, with multiple callbacks, gesture and direct address to the audience.
She recognised they were very much 'her' crowd when they gave scant response to the few scatological remarks that peppered the show and she ended with a dizzying narration of another story within a story, where a few seconds at the end of a life have a heartbreaking, concentrated clarity.
The serious approach to luck, bad luck or just the ability to simply be aware catches up with the audience, where they've laughed at domestic infelicities, clumsy parenting and indestructible hamsters.
Phenomenal storytelling, engagingly performed with a disarming lack of ego, funny and soulful by turns, this is comedy that restores your sense of wonder.
Review date: 8 Aug 2017
Reviewed by: Julia Chamberlain
Recent Reviews
What do you think?