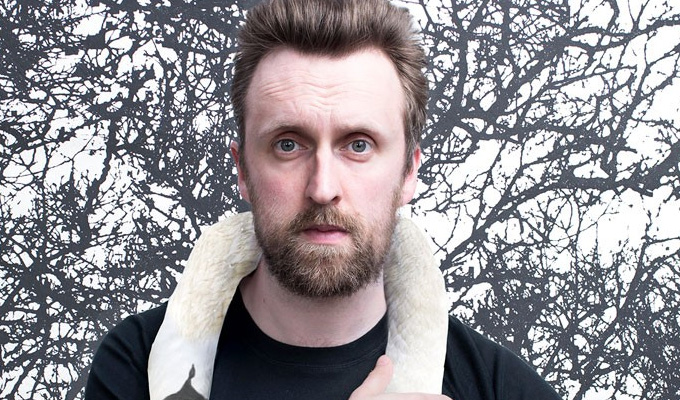 Matt Winning: Filibuster
Laughing and learning. That's the idea in Filibuster by Dr Matt Winning, environmental economist and stand-up comedian. I've always found it a big cringeworthy when someone tries to do comedy on a dry subject, the joins are always too visible, the bridges too far between 'joke!' and '…but seriously'.
But Winning does a really rather good job of it in his show about climate change, mainly because of his genuine enthusiasm for the 'but seriously' stuff (and perhaps because I'm actually interested in it).
The show revolves around a good old presentation on a big screen, full of detailed bar graphs and flow charts showing just how screwed we are. On top of that, Winning creates a parallel narrative of his love life crumbling, with his ex-girlfriend ending up in the elbow-padded arms of a rival lecturer. This is where joins do appear, because the all-too-real sections on climate change don't quite connect up with the doomed romance stuff, which feels fake from the off. It's a disconnect that slightly undermines the fun.
Winning takes us through what the problems are exactly with climate change, how they happened and what can be done. He plays dumb for laughs and there's a lot of gallows humour about humanity's prospects. A standout gag for me was one about, believe it or not, the hundreds of millions of environmental refugees that irreversible climate change would create. Honestly, it's a cracking gag I also got an abstract thrill from watching a man stand on stage and proclaim with utter conviction, 'Boutros Boutros-Ghali can, get, FUCKED!'
Overall the material isn't stellar, it must be said – his pre-presentation warm-up bit on Boots meal deals is pretty forgettable – but there are enough good lines and his delivery is assertive enough to sustain the show.
Climate change deniers like Nigel Lawson get short shrift and Donald Trump makes an appearance – and justifiably so, after his withdrawal from the Paris agreement. A quick dissection of Trump's justification shows it to be utter claptrap, of course.
The longer the show goes on, the more it becomes about Winner's broken relationship, and there's a reveal which demonstrates that the whole show was intended to be a lesson on how to get people to care about climate change. People respond to stories, not numbers, he says, and that's how deniers make easy ground – by appealing to people's emotions.
It's a slightly clunky ending but it's done with charm and spirit, and it's pretty effective as a call to arms. I doubt many climate change deniers will make it into Winning's audiences this month, but still, even though he's preaching to the converted, he still has to make the converted raise a few chuckles.
Filibuster is a success on this front: not so much a lecture with some lame jokes injected in like jam into a doughnut, but definably a comedy show on a serious subject.
Review date: 8 Aug 2017
Reviewed by: Paul Fleckney
Recent Reviews
What do you think?