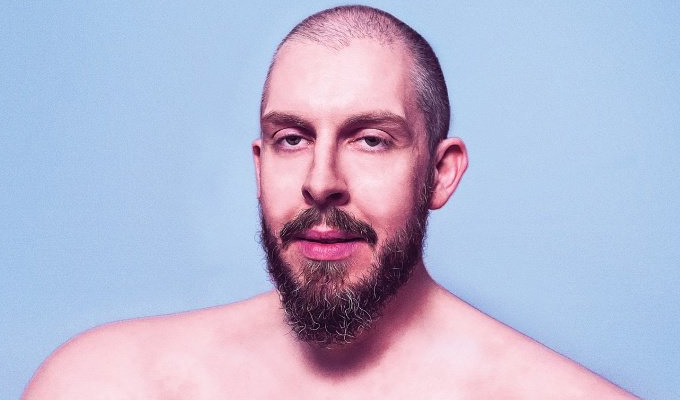 Carl Donnelly: The Nutter on the Bus
Carl Donnelly could easily be selling out decent-sized rooms in the Pleasance, doing relatable, anecdotal comedy about everyday life. He did just that for years, picking up some award nominations and a fanbase along the way.
Not so this year, when his chosen venue is the upper deck of a bus, whose capacity is about 25 people. Not only that, Donnelly is talking about subjects that are at the very fringes of mainstream society. And this makes him a rather delicious prospect as a comedian: a mainstream, accessible voice bringing us dispatches from the edge.
The thrust of Nutter On The Bus is that Donnelly has been taking ever-more extreme steps to addressing his mental health issues, which he has been open about in previous shows. The latest method was to try ayahuasca, a pretty bloody hardcore 'spirit tea' – which is admittedly quite fashionable in certain circles, but probably not among those who like a beer and a burger down the Pleasance Courtyard.
The tea – which Simon Amstell has spoken about before – is supposed to have a cleansing effect on its user. In the short term, you vomit yourself inside-out; in the long term, it can alter your outlook and even change your life, so the manual tells us.
Donnelly has a natural gift for storytelling comedy, and sure enough his tales of taking ayahuasca on two separate occasions are evocative and amusing. One of those occasions would look to a casual observer like a fucked-up East 17 video, he says – an image that will stay with me for a while. He seems sheepish about sharing these experiences with us – perhaps this is why he's confined himself to bus-sized audiences this year – but his easy, amiable delivery remains, as if he's telling stories about consuming too much Kronenburg, not shamanic poison.
Comedically he protects himself from appearing pretentious by taking the piss out of almost everything he does –his veganism, the crystal he wears around his neck even though he doesn't believe in it, the hard drugs.
His experiences of ayahuasca and the hallucinogen DMT experiences aren't just cheap bragging, either. Instead, Nutter On The Bus is a pretty thorough investigation of one man's issues with his poor, emotionally stunted upbringing, and how he's taken the slow road to dealing with that. Further to that, Donnelly has re-evaluated his attitude towards his brother, who has dealt with the same problems by becoming a conspiracy theorist. Carl was always the "normal" one, or so the theory went.
Nutter On The Bus is smart, thoughtful, and funny. As ever with Donnelly's style of comedy, though, I find there is a limit to how good it can get. His shows are so chatty and easy-going, and probably lack a few killer punchlines, that they lack a bit of rhetorical oomph.
Reviewing NotB almost feels like reviewing going for a drink with a mate. Still, with one foot in the mainstream and one foot out of it, Donnelly is entering perhaps a fruitful new chapter of his career.
Review date: 8 Aug 2017
Reviewed by: Paul Fleckney
Recent Reviews
What do you think?