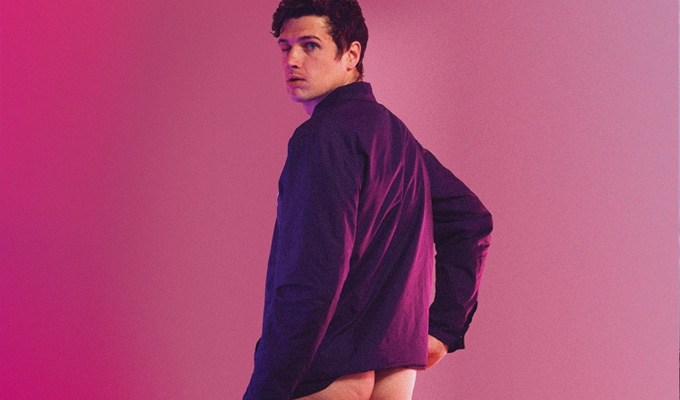 Patrick Turpin: Itty Bitty Little Titty
Patrick Turpin likes to create a discomforting first impression, although once his audience gets to know him, there are some peculiar delights in this show about both masculinity and the loss of loved ones
It's initially hard to put your finger on quite what's odd about him – though the high-heeled shoes he wears with his dapper men's suit is almost certainly part of it. That, or the plethora of penis-shaped props littering the show, from straws to bookmarks. He's even modified the illuminated Apple logo on the back of his laptop to resemble a cock.
These all tie into his story about organising a lads' weekend, but with less drinking and strippers and more origami lessons. For needless to say, Turpin, like most young males comedians at this festival, is no alpha and wants to emphasise the fact, alongside other strands such as exploring the relationship with his mum and dad
Some of his delivery channels Tim Key, as he dryly makes unconvincing overtures about having fun over a soothing bed of music. And while the title appears meaningless, the show can indeed be 'bitty' with lots of apparently random interludes such as sight gags, jaunty songs and a game that gives nicknames to audience members' genitals based on previous Derby runners, which proves a highlight of the show.
The level of weirdness seems imperfectly judged: probably not enough to appeal to die-hard fans of the absurd, but strange enough to make what could be more straightforward narrative elements slightly inaccessible. Quite what to make, for example, of his re-enactment of the Three Wise Men, only with comedy Northern Irish accents.
Yet for the sometimes jumbled narratives, he's oddly endearing, and the core stories from the show prove he can put whimsy to good use. He's still a young comic and still, I think, finding a consistent voice despite this being his fourth solo Edinburgh show.
In last year's offering, he explicitly split his personality into the confident, matey side and a more artsy, delicate side; and finding that balance is still an ongoing process. But file under 'interesting', for sure.
Review date: 8 Aug 2017
Reviewed by: Steve Bennett
Recent Reviews
What do you think?