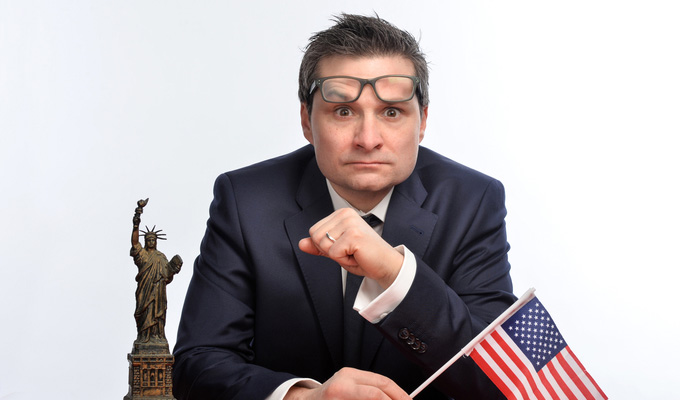 Erich McElroy Tops Trump
Erich McElroy maintains he didn't want to do another show about US politics. But then Donald Trump became the 45th President. And the American comic found himself being repeatedly asked to explain the outcome for smugly incredulous parents at his children's school.
Originally from Seattle but residing in the UK for the last 17 years, McElroy makes a convincing case for still being an outsider. He's a harassed family man, burdened by the many clubs he needs to ferry his kids to, failing in justifying his career to his wife and just generally being bemused by the British middle-class milieu he's reluctantly embraced in affluent Kingston-upon-Thames. The role of tombolas in smuggling alcohol into schools prompts one particularly well observed, slice-of-life routine.
Even though McElroy owns a British passport, we Brits won't allow him to feel naturalised, with the implication that The Donald has set him even further back in this aspiration. While it was his man crush Barack Obama that cost McElroy his lucrative former job by changing the funding for an academic programme, pushing him into stand-up, it's Trump who's truly providing him with the material.
The cliché that Trump is the gift that keeps on giving for comedians is certainly true for McElroy, a bleeding-heart liberal who voices his disquiet through pithy snipes at – and Twitter trolling of – the President and his more opinionated supporters.
While this might be an appropriate medium of dissent for a world leader who can't finish a security briefing longer than a single page, and which doesn't contain multiple mentions of his own name, as satire it's pretty route-one and straightforward, the pyrrhic victory McElroy declares at the close of the show only just about justifying the journey.
To be fair, the comic fully acknowledges his liberal bubble and playfully challenges it by expanding on why Trump was more likeable than his rival, Hillary Clinton. But aligning the president with an unloved stepdad, McElroy's tone is invariably that of amused sufferance rather than revolutionary venom, more of a general summing up of Trump's missteps to date than insightful analysis. His own personality is somewhat subsumed, even if by the most powerful person on the planet.
There is some exploration of changing US policy, though it tends towards the more ludicrous aspects of Trump's reforms, such as a plan to make the Mexican wall from one-way glass or the virtually unparodyable legislation to permit the shooting of bears as they hibernate.
This focus on the outlandish rather does Trump's work for him by distracting from more impactful issues such as the Muslim ban. Of course, expecting a comic in a dank basement in Scotland to incite regime change is probably asking too much.
Still, it would have been more satisfying to hear McElroy draw deeper from his experiences in the Middle East and the ramifications for that area, as well as expanding on Trump's messianic role for his supporters, rather than just indulging in easily dismissed, cartoonish fantasies about Melania's sexual dominance of her husband.
Review date: 7 Aug 2017
Reviewed by: Jay Richardson
Recent Reviews
What do you think?