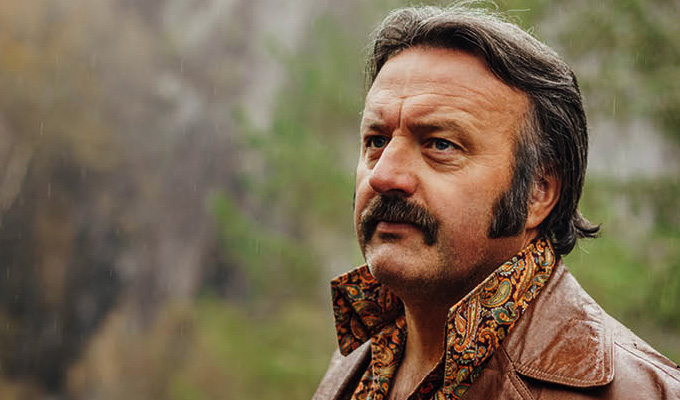 Mike Bubbins: Retrosexual Male
Note: This review is from 2017
If nothing else, Mike Bubbins deserves credit for his sartorial choices. He's able to pull of the almost impossible 'double paisley' look, with the Seventies print on both his trousers and his shiny shirt. He's a massive fan of the decade - hence the Retrosexual Male title - who has sideburns you could graze sheep on and a 'tache somewhere between Burt Reynolds and a porn star.
'I'm not a character act,' he has to tell us from the start. He dresses like this in real life too, and over the course of the show mentions that he drives a Ford Cortina, loves The Rockford Files and pines for those simpler times.
The decade does not dominate his comedy, although there is some nostalgia for the recklessness of Evel Knievel or the alcohol intake of snooker player Bill Werbeniuk, who literally drank an opponent under the table in a 42-frame match, one pint per frame. Now there's a true sportsman.
In fact, there's no real theme at all. Bubbins is a club comedian, and this is an extended club set of a few unconnected routines, adeptly strung together. He delivers like the pro he is, exuding an easy authority over a dozen people in a converted university conference room that would be just as effective on a rowdy Friday night in Jongleurs.
You could probably, at a stretch, find a recurrent thread about changing concepts of manliness, from those bygone celebrities to the way new fathers today are expected to be at the birth of their children, not in the pub. But that would be to overlook routines such as the hilariously dismissive story about going to the Royal Welsh Show, which doesn't fit that narrative at all.
Most of the material is not hugely adventurous, from all Brits thinking their home town is a dump, to losing his mates when he became a father, to a very familiar section scoffing at dressage as mere 'horse dancing'. If Michael McIntyre's done a routine, every other comic really has to pension theirs off, however silly the accompanying re-enactment looks.
Bubbins, who is returning to the Fringe eight years after his debut, covers all these routines well. The circuit's certainly given him the imperative to deliver gags at tight intervals and with a confident, bulletproof delivery that sells each line to maximum effect.
The quality of his writing ebbs and flows over the 45-minute show (his publicist later texts to say he usually does an hour, but accidentally missed a bit out). For every bit about how creative he had to be to build up a porn collection when he was a lad – avoiding the magazine-in-a-bush cliché – there's something a little more workaday, such as his re-enactment of the marital tensions brought out by the Mr & Mrs board game. This is essentially the same incident three times, not even subverting on the final one, as 'rule of three' convention dictates.
Bubbins's comedy certainly isn't trapped in the Seventies, and this is a dependably funny hour, even if envelope-pushing isn't his game.
Review date: 7 Aug 2017
Reviewed by: Steve Bennett