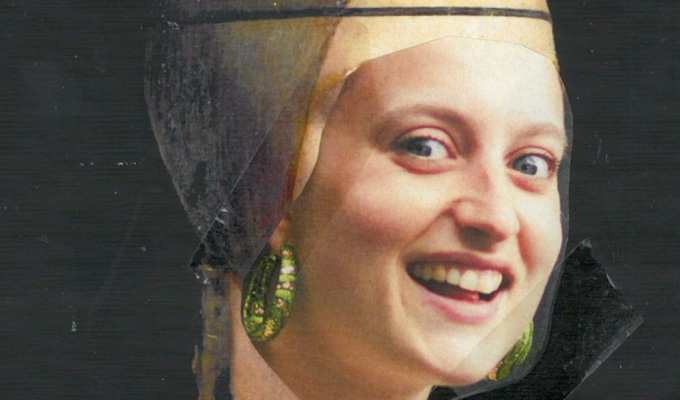 Harriet Braine: Total Eclipse of the Art
Harriet Braine archly sets herself up as presenting a course on art history, an easily digestible primer for those unable to take the A-level after government cuts to academic budgets.
With pressure on arts education to deliver a viable career rather than just a broadening of horizons for its own sake, it seems apposite that parody songs about decidedly niche subject matter, should find an early afternoon slot at one of the more out of the way Fringe venues.
Still, if reflections on Cezanne's marital struggles sung to the tune of The Police's Roxanne is your groove, then you'll find plenty to enjoy here.
Accompanied by her guitar and a marvellous trumpet impression that she deploys sparingly, Braine adopts something akin to a supply teacher's persona, mildly irked at the low level of comprehension before her, sternly determined to breeze through the lesson efficiently but unable to suppress her love of art and the eccentrics who've become its most famous names.
You won't amass a great deal of genuine insight into art history. But for a layperson it's appealing to have a few gaps in your cultural knowledge filled. As with all parody songs, that most derided of comedy genres, much of whether they stand or die rests on the comic choosing a song with just the right level of familiarity, so that the audience enjoys those satisfying moments of initially recognising the tune, then trying to guess the rhymes that are coming.
An interesting quirk of Braine's hour is that while 20th century pop music is invariably the way into a joke about 19th century Impressionism, occasionally, with the big figures like Picasso, it's the artist's biography that's more recognisable than the accompanying music, the reveal happening in reverse.
Of course, this will vary for individuals, their respective knowledge and speed of wit, making for staggered titters throughout the room as everyone catches up. None of the source material is too obscure, for that reason.
Quite a few of the gags are weakly stretched. A trilling Kate Bush impression is spot on. But it only sets up the notion of a gender swap Leonardo Da Vinci musical co-written with Dan Brown and starring Leona Lewis, naff wordplay scarcely worth expanding on.
But her acclamation of the Japanese woodcut master Hokusai to the tune of a Burt Bacharach classic is a simple, unalloyed delight, a juxtaposition likely to linger in the memory anytime you see The Great Wave.
Occasionally as well, the contrived mix of high culture and throwaway silliness is so blatant as to just force your cynicism to surrender, with Braine becoming Edith Piaf to warble through the differences between Manet and Monet via the medium of Abba.
There's a bit of audience singalong, though perhaps not enough for the inclusive, classroom atmosphere that Braine creates. And satisfyingly, after some initial meandering waffle about being from Surrey, she belatedly allows some of her real personality to show through the character, lamenting the frustrations of her job as an archivist at the National Maritime Museum, before sharing an awkward encounter with her hero, Grayson Perry.
Like most song parody, Total Eclipse of the Art leaves you craving something richer. But if you can park your prejudice for an hour, this is an undemanding, amusing diversion.
Review date: 6 Aug 2017
Reviewed by: Jay Richardson
Recent Reviews
What do you think?