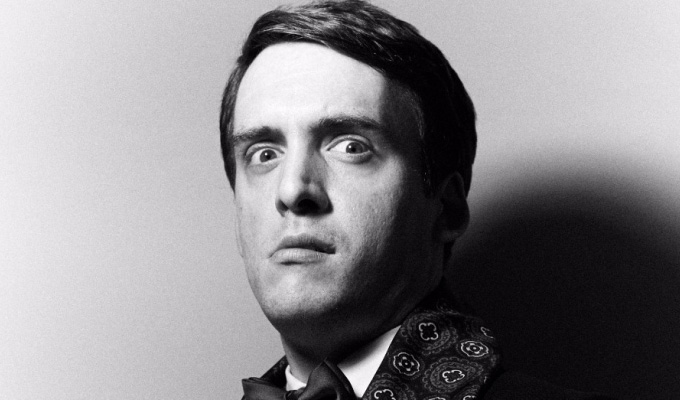 Graham Dickson is The Narcissist
The Narcissist is an ambitious multi-level take on the one-man character comedy, embracing its pretentiousness but savvy enough to play it for laughs.
Graham Dickson, from hit improv show Austentatious, bases this show on the great early 20th Century Russian absurdist Grigoriy Alexeivich Dhukov, so little-known you might question if he really existed. The earnest production weaves autobiographical notes around dramatisations of his forgotten short story classics.
To add another level of meta-commentary, it is not that show we are seeing but a rehearsal, as the pseudy Dickson frets about the theatrical process – and especially the chair he gets to use – with long-suffering director Hamish MacDougall in the gallery. The portrayal of actorly arrogance and insecurities is up there with Withnail.
Fictional Dickson plays fictional Dhukov with both the intensity and the sinister suave of Rob Newman's predatory old character Jarvis. Between these scenes, vignettes from the writer's forgotten oeuvre allow Dickson to showcase various, unrelated characters, from the bleak childhood of a boy terrified of his abusive father, to a country singer hailing his inspiration in the audience. The humour of the first is bleak and brutal, the second somewhere between awkward and silly – typical of a show that keeps changing its tone without losing its overriding atmosphere.
The best scene involves a character asking 'is this seat free?' so many times in a busy café that the anticipation of every repetition becomes funny… the silly humour enhanced by his affected speech with its aspirated 'w's. The way a turtleneck-wearing American critic mangles his vowels produces similarly amusing results.
Dickson, the real one, is clearly a versatile actor, and he makes his creations, or his creation's creations, convincing despite their outlandish character traits. If nothing else this would be a fine calling-card for casting agents – and expect to see him getting more acting work off the back of it – but the creative writing makes it so much more than that.
The Narcissist is sometimes more clever or impressive than funny – but it is clever enough and impressive enough for that to be OK. And Dickson will smash the artsy tension with an hilarious moment before too long, whether a surreal scenario, an outburst of his fictional alter-ego's arrogance - or even just a bit of daft wordplay. That you're never quite sure where the next laugh is coming from is part of the show's distinctive appeal.
Tensions on stage eventually come to a head and the whole smart and witty shebang is brought together in a satisfying manner, underlining the notion that The Narcissist is so more than a one-man sketch show.
Review date: 6 Aug 2017
Reviewed by: Steve Bennett
Recent Reviews
What do you think?