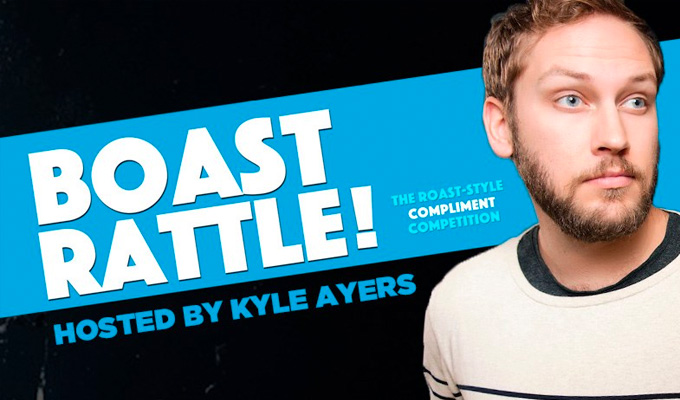 Boast Rattle
Why do comedy roasts have to be so mean? That's the thinking behind Boast Rattle - in which stand-ups have to hurl not insults but compliments at each other.
It's a lovely idea, if rather patchily executed via the slightly shambolic hosting of Kyle Ayers, whose unfocussed, indulgent preamble makes the show feel too much like an in-joke among mates… though he eventually clicked into a more professional gear, and rattled off a few tight gags.
One 'battle' commenced, three pairs of comics squared off against each other, mostly proving that comics are not as good at taking, or delivering, praise as they are insults. Martin Urbano, for example, found it easier to self-deprecate than wax lyrical about former SNLer Sasheer Zamata.
The show would benefit from having comics of a higher profile, though, as their history and personality traits being praised would then already be known by the audience, saving us from having to join the dots.
Only in the last preliminary round did the show really fill out its full potential. Emily Heller served up a quick volley of tight, funny jokes, exactly as required to lift the night, and proving you can be sharp and generous. While in response sweet-natured Ron Funches exuded kindness like love hearts coming out of a character in a cutesy video game.
Sound effects, provided by comedian Dave Thomason, add to the mood – air horns used inappropriately, plus supportive audio snippets from Ayers's father.
The final round involves the previous winners praising an audience member - but no 'civilian' was forthcoming, so another comic hopped up, adding to the incestuous feeling. It also exposed a flaw in the format, as it required five minutes of aimless filling while the comics headed off to pen their compliments.
Boast Rattle is a good idea but needs tightening; it certainly doesn't need to run to 90 minutes. If that's not too mean a thing to say given the spirit of the endeavour.
Review date: 30 Jul 2017
Reviewed by:
What do you think?