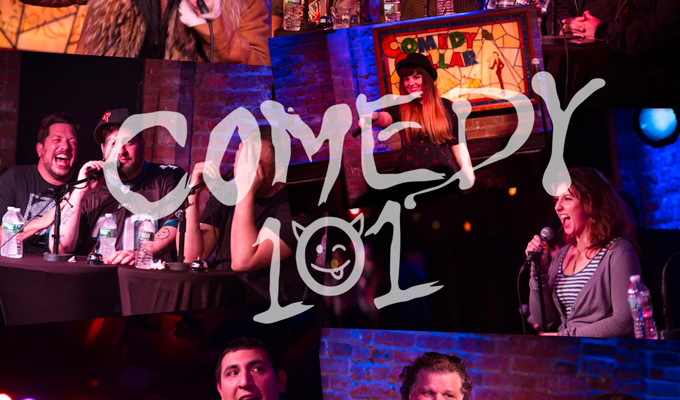 Comedy 101
Comedy 101 is a night for those who think gong shows aren't brutal enough on open-spots… and it's absolutely hilarious.
The format, which originated in New York, involves a succession of new comedians performing in front of a panel of far more experienced mentors who can, at any time, buzz in to offer their 'help' on the unfolding sets.
In reality that means a relentless battery of savage insults and devastating criticism more bruising than any comedy roast. Any cracks in the performance are cracked wide open, any physical attribute mercilessly mocked, every set-up immediately jumped on with an improvised put-down far funnier than the poor sap on stage could script.
'I've got the eyes of a Kennedy,' said one act at this Just For Laughs special. 'Wish you had the skull of one,' Jim Norton slayed, just one of the woundingly sharp lines he slung out, too many to count.
Fellow panellist Jimmy Schubert was a revelation: merciless in his blunt put-downs that hit every time, told with the zing of a Catskills veteran. Tommy Johnagin was less vocal, but more creative, starting the night as a lone supportive voice but quickly joining the torrent of abuse; while Dan Soder's nice-guy masked slipped even quicker for his laser-guided quips. And as if four professional micced-up hecklers wasn't enough, Ron Bennington, who co-hosts the show with his daughter Gail, chipped in a handful of putdowns too.
The open spots are little more than cannon fodder, who can't bring any ego to the room as it'd be crushed like a moth under a steamroller. One act tonight – we needn't name them, since the show is most definitely not about them - got a little antsy with the panel's relentless interruptions but was told firmly: 'Did you not know what you signed up for?' Another came out with a paper bag on his head, Unknown Comic style, to save his blushes. 'I wish that bag was plastic,' Johnagin said. At least it was probably Johnagin, the insults fly so fast, and the audience guffawing so hard, it's hard to keep track.
A couple of the seven open spots could probably claim a draw, the best possible response since the show is based on them bringing a peashooter to a nuclear war. But never mind their pride, it's the laughs that count, and shows where they come as fast and as hard as this are rare.
The Comedy 101 shows – catchline 'tell a joke or be a joke' – are released as a podcast, distributed via the Interrobang website. I'll certainly be subscribing.
Review date: 29 Jul 2017
Reviewed by:
What do you think?