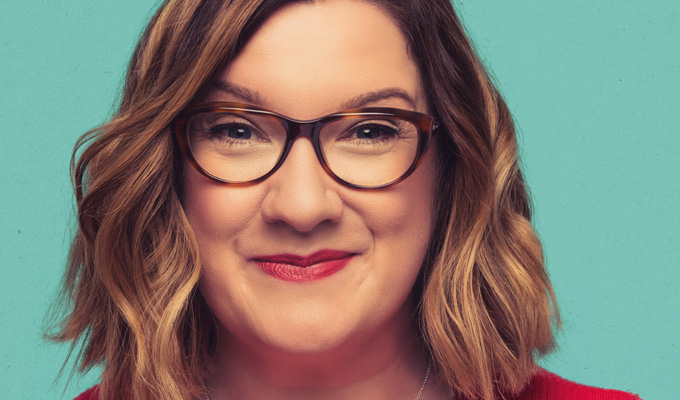 Brit(ish) at Just For Laughs
Note: This review is from 2017
Just For Laughs is a high-pressure festival for comedians – an intense rush to impress the all-powerful industry bigwigs in a few minutes over a few days; the sprint to Edinburgh's marathon.
But while most comics aim to be their best with brilliantly polished TV slots, Sarah Millican is in Montreal with a work in progress for her 2018 UK tour. Such a uniquely low-key offering surely suits her unshowy down-to-earth humour.
It's a style that travels well, too, defying any fears that her appeal relies on the regional charm of her soft Geordie accent. At the Brit(ish) showcase – which she headlines as well as performing her own preview shows – she proves a hit among an audience with no preconceptions about such things.
She goes dirty from the start, albeit couched in heavy euphemism, and rarely goes too far from her nether regions. Some of this has an underlying point – maybe society shouldn't be so Hung Up on mentioning sanity towels and tampons – but mainly it's just unabashed cheeky filth, and that is universal.
Her closer, her bedtime routine outlined in list format that offers a winning pace and rewarding join-the-dots jokes, is the finest example of that, and augers well for that forthcoming tour.
The Brit(ish) gig is compered by Gina Yashere, ex of 'Beffnal' Green now living in Brooklyn, thanks to her gig on The Daily Show. Her brusque delivery injects energy into the room and into her act, making even ordinary observations sound like they are important. She probably learned it form her mother, who would bark bleak warning to the young Yashere to keep her tethered to home.
She's best on her Nigerian background, especially her well-established trademark routine about heading to the homeland to seek her roots and instantly becoming terrified by the lawlessness, while her upbringing in East London also yields results.
Opening act Joe Lycett probably shared the 'best gig' laurels with Millican. A few quick opening gags about his coarse-but-funny friend Clare and mucking about with the Alexa voice recognition device paved the way for his longer story about trolling the managers of the building where he rents an office, via a series of delightfully absurd emails and posters. Lycett takes great glee in the silly wind-up, and his puckish style delights the audience as they wait for each unpredictable turn in the odd tale.
A weirder brand of stupidity next, as Aisling Bea – the Irish comic entirely responsible for the parentheses in the title of the show – delivered a semi-surreal set, leaping between all manner of bizarre bits, from Hanson to Dublin Waxworks and from the versatile exclamation 'girl!' To being made of ham (!) very loosely based on a narrative about travelling away from her isolated small-town roots.
Her train of thought makes little logical sense, but she makes her lack of focus endearing through her cheerful enthusiasm and charismatic, upbeat performance. And the fact that there are some good lines in what might appears to be a random jumble, belies her underlying comic talent.
Bea's cheerfulness contrasts with the curmudgeonly complaints of Seann Walsh, much of which is about his disappointment in himself becoming the sort of man he hoped he'd never be as he got older.
It took him a minute or two to find his momentum, but once the audience were on board they shared his frustrations and irritations. His Limewire chunk, especially, struck a powerful chord with those of a certain age who remember the days of illegal downloading.
The line-up was completed by Nathan Caton, who also finds himself in a rarefied world he never expected when younger. As if Snoop Dogg had turned up in Midsomer Murders, is how he pithily puts it.
Class is a big part of his shtick – which the North Americans got on board with, despite not having such rigid social structure – and, of course, race, tackling the expectations people still have based on skin colour (and inadvertently touched on a similar gag Yashere had about black people being the new Muslims).
But he's not an overtly social comedian, merely reflecting his own experience: as tales of his fearsome gran and friction with his stepdad attest.
Review date: 28 Jul 2017
Reviewed by:
Recent Reviews
What do you think?