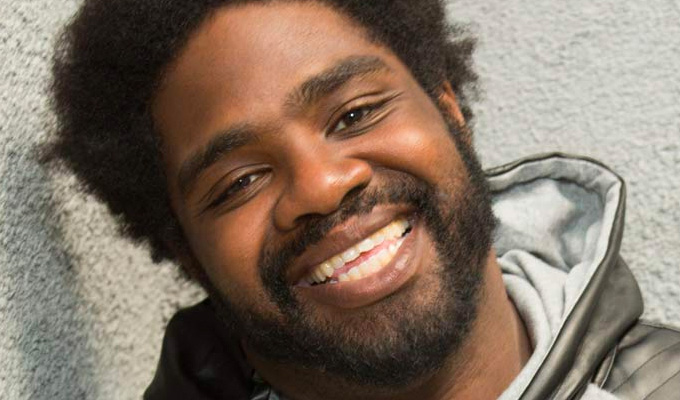 Ron Funches: Funch-A-Mania
Late at night in a smokey room, Ron Funches offers a comedy chill-out zone, his adorably camp voice flirting with the audience, sweetly seductive and 100 per cent unthreatening.
The slow pace – and the unexpectedly girlish giggle which follows most of his jokes – gives him a soothing presence. Not, perhaps, the quality you immediately seek out in a comedian, but it is disarmingly charming.
Further playing against expectation, Funches takes to the stage like a boxer, showing off a championship belt and with a trainer in tow, before telling us about the time he got into a fist fight in Vancouver. He is an unlikely brawler, but a racist slur tipped him over the edge, and no one was more surprised than him at how things turned out.
There's no hurry to tell the tale, he just lets it unfold at its own languid pace, and if there are any embellishments, he doesn't let them show, lest they undercut his low-key vibe. He has a tempo of his own, and will not deviate.
His tranquil style asks patience of the audience, too. 'Ooh, don't you get ahead of me on that,' he coyly reprimands after one set-up. We have to enjoy the journey more than the destination.
On that voyage, some of the content is slight, seeming like padding surrounding the strong joke he finally gets to. A whole routine about reality TV, for example, doesn't throw any new light, until he gets to the genteelness of Great British Bake Off and its cosy refinement that suits his own delivery style. The contrast he draws with how the competitive Americans would make the show is brilliant.
Funches makes much of his lack of ambition, enjoying his smokes and complaining that getting cast as a lead on NBC's Undateable required the sort of work ethic he didn't get into stand-up for. Indeed, there's little new in this set from the one he performed in London last year, even though he's got a lot of free time since the TV show got cancelled.
But belying that laziness is the fact that he's lost 10 stones, and you don't do that without ambition. He has a couple of entertaining anecdotes about that, but the substance of the story seems only briefly alluded too: that his slimmer self, combined with the money he got from TV has made him newly confident.
It's among the few glimpses we get at something deeper, from dropping in references to Coretta Scott King to mentioning the fact he's a father to an autistic teenager, all as background to sillier stories.
After all his soft-spoken come-on, it would be rewarding for him to use his entrancing presence to open up more about the real him, as well as telling tales that are charmingly frivolous. But even with only glimpses of more substance, it's a delight to wallow in his show, comedy's relaxing equivalent of a glass of wine in a fragrant bubble bath.
Review date: 27 Jul 2017
Reviewed by:
Recent Reviews
What do you think?