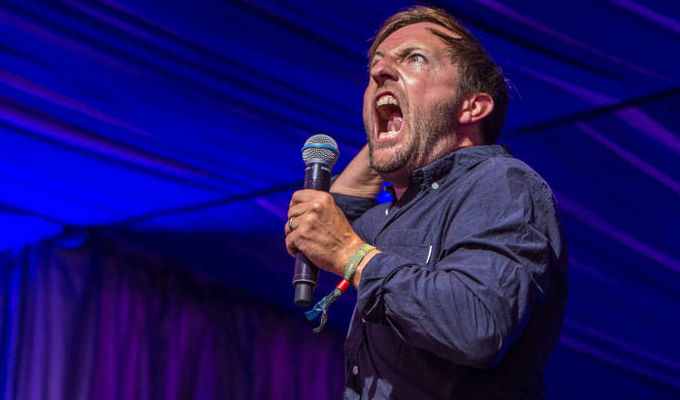 Andrew Maxwell at Latitude 2017
Andrew Maxwell can't help but laugh at us. The lively Irish comic's reaction to Brexit is just to chuckle out loud at the stupidity of the British. And when it comes to Theresa May and the Tory election campaign, that become a full-throated cackle at their arrogant hubris.
The comic is pretty clued up about the state of the world, so the fact his reaction is so manic may be worrying, were we not so warmly invited to share his amusement.
LOLling is not the reaction of resignation, either, for it turns out Maxwell has lots of ideas to fix the world, not least on how we should react to terrorism. Almost entirely unrealistic, he nonetheless sells his thoughts with a rare conviction, even when they ultimately end in a satirically ridiculous position. He is the facetious preacher.
Aptly, actually, as he reveals he's an occasionally practising Methodist, which is a rebellious stance among the atheist liberal cabal of the comedy circuit. And while having a Muslim wife helps redress the balance - in another potentially contentious stance in this environment, he doesn't buy into the cult of Corbyn, not one bit.
But most of his contempt is aimed at the right, especially the Ukippy end of that spectrum and Maxwell dismantles Nigel Farage with powerful logic, never the frog-faced fool's strongest point. Maxwell is, in fact, something of a fifth columnist, as he lives in the Brexit stronghold of Kent, and his rabid neighbours give him first-hand insight into the Leave mindset.
Mixed into the politics is his favourite pastime of mocking our European neighbours (being a Remainer will never take that away from him) and the personal experiences of being a father to a 16-year-old boy (adolescent, smelly) and nine-year-old girl (a perpetual worry) with a third imminently on the way.
The mix of grand ideas, everyday observations and playful silliness has always proved potent in Maxwell's passionate hands. The current political turmoil has only increased his powers, keeping him at the top of his game.
Review date: 16 Jul 2017
Reviewed by: Steve Bennett
Recent Reviews
What do you think?