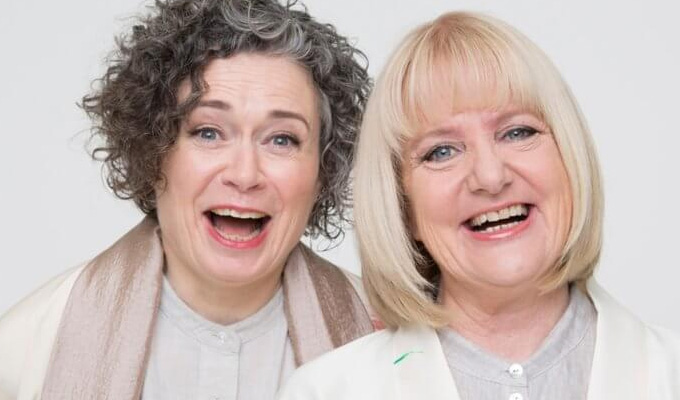 Judith Lucy and Denise Scott: Disappointments
Most comedians rally their audience with something like: 'Who's been drinking tonight?' Denise Scott seeks solidarity by asking: 'Who here's got arthritis?'
For this show with her long-term pal, and fellow doyenne of Australian comedy, Judith Lucy is a 70-minute acknowledgement of ageing, told with unflinching honesty, weary acceptance and snarky, self-aware wit.
They puncture the phoney image of confident positivity projected on social media with their real lives of disappointment, doubt and deterioration. Especially the deterioration. As two women, one each side of the menopause (Lucy is 49, Scott 62), they are acutely aware of the effects of physical decay.
It's familiar stand-up territory, even if talk of dried-up vaginas from women of a certain age still has a certain taboo quality off the stage. But this is about frankness more than shock value, and their vivid descriptions certainly resonate among fellow members of their demographic, glad to know they are not alone.
The pair start off lying in beds, supping wine – anything else would require too much exertion – although this minor theatricality, and the fact they have to take turns with their monologues, makes things seem more scripted than normal stand-up. And stand up they eventually do… it's hard to remain under the doona when you're having a hot flush.
Although the whole show is built on the complaints of their advancing years – and they call the Poms whingeing! – sticking to the same subject does mean that after a while things start to sag like… well, you can add your own easy punchline there.
But what brings it up are the pair's interaction with the audience, fussing over them like over-inquisitive aunts, and especially each other. Their decades-old friendship is warm and obvious, and they bounce off each other well when they loosen their grip on the script.
The stand-out section comes towards the end, when Lucy and Scotty trade deliciously vicious insults, a cathartic release in which Scott is portrayed as mumsy and dull, Lucy as a wayward wreck, wasted by a lifetime of drink, drugs and casual sex. Not only are the barbs savage, they come with twist that makes it even more interesting.
Disappointments us not quite all about them – a rant against 1980s music proves more controversial than Frankie Boyle at his most pugnacious – but they usually turn things back on themselves.
However a rousing finale, a flag-waving rendition of I Am Australian, which doesn't have much to do with the preceding discussions even if it sends the audience out with the swelling hearts that the comics would want as two women who have taken proud ownership of their failings.
Brits might not know this pair – a straw poll of the audience revealed that almost all the locals had been brought along by an Aussie mate – but there's no reason they shouldn't. Fans of Jenny Eclair's should certainly embrace Lucy and Scotty's similar brand of amusing menopausal bellyaching.
• Judith Lucy and Denise Scott: Disappointments is at the Soho Theatre until July 7.
Review date: 30 Jun 2017
Reviewed by:
Recent Reviews
What do you think?