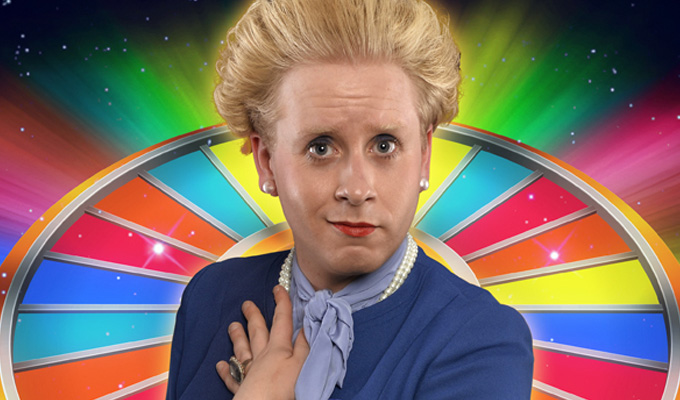 Margaret Thatcher Queen of Game Shows
So the lady IS for turning…. into a game show host, that is.
Margaret Thatcher has long been reinvented as an international cabaret superstar thanks to comedian Matt Tedford, and the combination of her domineering nature and the 1980s nostalgia she evokes makes her a surprisingly fitting successor to the likes of Cilla and Brucie.
And a format that divides society, or at least the audience, into two, rewarding one section and punishing the other, goes to the heart of Thatcherite economics.
Tedford has great fun with the idea: contestants compete for their benefits over a series of games requiring them to 'check their privilege', destroy the NHS in the name of top-down reorganisation, and literally tear up the European Convention on Human Rights. Broad satire accompanied by a joyous vintage soundtrack and some gloriously delivered puns.
Turning the Iron Lady into the Glittery Lady was always an inspired conceit. The drag scene loves a strong woman, and to reclaim her image in the name of outrageous camp entertainment is a fine political blow against the architect of the discriminatory Section 28.
The rounds are mined for every bit of silliness (if 'mining' isn't an inappropriate metaphor where Thatcher is concerned) but Tedford and co-writer Jon Brittain clearly don't think this is enough to sustain an hour, and impose a contrived plot over it all.
In the loosest possible Christmas Carol parody, the former PM is visited by the likes of a messianic Jeremy Corbyn, a pint-sized Nicola Sturgeon and an intimidating Angela Merkel, with whom she engages in a rap battle. Every side of politics gets a ribbing, and Nigel Farage, as embodied by one of Mrs T backing dancers, is a particularly delightful parody – even if he is an easy figure to ridicule.
There are times when the scant logic of all this starts to buckle under the weight of such a ridiculous story, but ultimately the plot only a device for getting from one preposterous set piece to the next… and those scenes are so cheerily absurd it doesn't really matter how we got there.
As Thatcher, Tedford revels in the ridiculous, relishing the daft gags and cajoling the audience into submission to the cabaret vibe while maintaining a knowing acknowledgement of the nonsense she's peddling. To coin a phrase: Didn't she do well?
So could we really see a man dressed as a woman as the saviour of Saturday-night TV? Mrs Thatcher could surely do no worse than Mrs Brown…
<B>Margaret Thatcher Queen of Game Shows is on at the Underbelly Festival on London's South Bank at 9.15pm until Sunday.</b>
Review date: 29 Jun 2017
Reviewed by: Steve Bennett
Recent Reviews
What do you think?