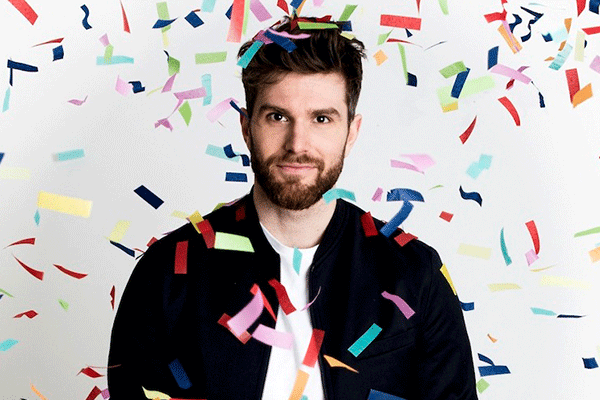 Joel Dommett Live
'Who here's seen my penis?,' asks Joel Dommett. Huge cheer. 'Who here's seen my comedy?' Notably smaller cheer.
In an age when Kim Kardashian has become one of the most famous women in the world on the back of a sex tape, what does it matter how recognition comes? It's what you do with it that counts.
So now Dommett has become known for being on I'm A Celebrity, and for an online catfishing scam that led to his privates becoming not-so-private, his first post-fame tour is the defining one. There is a legion of new fans to impress and stand-up is the most unforgiving of artforms.
Luckily, Dommett has always been better than his image might suggest. His easy charisma and boy-band good looks could have him dismissed as a pretty-boy bantermonger, but he has the chops to back it up.
This tour, unimaginatively titled Live, is based on last year's Fringe show, partially about how he fell for that internet bait, with a few elements varied. Gone is the PowerPoint that gave veracity to his story, and some non-essential sideline routines, in is a smattering of post-ITV jungle stories, and a lot more knockabout banter with the audience
Dommett is impressively quick-witted, playing with the spontaneity of the gig ad-libbing jokes that are almost wasted as in-the-moment throwaways, while fostering a sparky relationship with his audience that entertains interjections, constantly giving him something to work with.
Like many comedians expanding a taut hour's storytelling into a two-halves-and-an-interval tour show, Dommett's first half is a little loose. It sets up the atmosphere and the characters, both in his anecdotes and in the room, but rather tootles along on upbeat bonhomie between those occasional big bursts of inspired spontaneity.
In establishing himself as the playful type, he revels in an extravagant dick joke, which doesn't quite drag the audience with it, and some of the storytelling elements don't quite hit their mark – the jeopardy of falling out with his best mate, for example, seems undersold, sacrificed for emphasising his playful nature.
But when he gets his teeth into the meat of the second half as that tale of a ruined friendship tessellates neatly with other yarns: from teenage rock and roll dreams with his metal band Psirus, an appalling, failed one-night stand, and that catfish sting. It's a perfectly constructed story, rich with callbacks yet never feeling that they are forced, building up to a satisfying big-ticket payoff (and one, interestingly, that's different from the Fringe show)
Throughout, Dommett portrays himself as the loser, but not in an overtly self-deprecating way. Instead he cheerfully shrugs off setbacks as the stuff of life, mere fodder for the ceaselessly entertaining anecdotes he shares on stage. And when these hapless tales are mixed with couple of magnificent set pieces, firm jokes and delivered with his high-watt charm, it makes for a winning formula.
Review date: 11 May 2017
Reviewed by: Steve Bennett
Recent Reviews
What do you think?