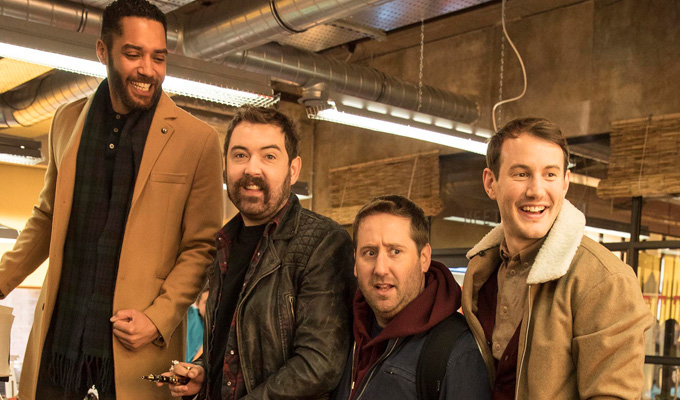 Loaded
When sitcom characters suddenly become wealthy, it's rarely good news for the viewer. Think Roseanne or Only Fools And Horses.
But Channel 4's Loaded could well break that jinx, depicting four newly-minted tech millionaires who quickly realise that riches are the start of their problems, not the end.
The friends who hit the financial jackpot, thanks to their hit iPhone game Cat Factory, all deal it in very different ways. Since creative genius Watto is played by the rarely-retiring Nick Helm, you might expect the money to go to his head. But in fact, in a more tender performance that builds on Helm's Uncle reputation, it only comes to emphasise the vacuum at the heart of his life, which he previously filled with copious quantities of drugs. Instead, it's marketing guru Leon plated by Samuel Anderson, who becomes the flash one, instantly buying a Ferrari, a mansion and the latest suits.
In contrast, Josh (Jim Howick), splashes out on nothing more than a new pair of jeans, which cause him only discomfort, while meek, incruably pessimistic coder Ewan (Jonny Sweet) puts a deposit down on a Zorbing session, which he instantly has second thoughts about. As a man used to fading into the background, the attention wealth brings makes him even more uncomfortable than he was before… which was very.
The brisk opening section of Loaded plays out pretty much like a succession of sketches to effectively establish the lead personalities and punch out the laughs. But you need more drama to sustain a series, and the quartet, especially the already fretful Josh, soon come to the realisation that being the head of a multi-million-pound company is not the same prospect as mucking about with your mates creating a silly game.
In the second half – which almost feels like a separate half-hour episode – fierce new American boss Casey (Mary McCormack) makes that abundantly clear, that her corporate masters are keen to protect and build on their hefty investment. But while she portrays herself as Darth Vader in a trouser suit, her UK assistant (Lolly Adefope) is altogether less together, offering a uniquely quirky take on the dappy dimwit sidekick.
There's a good mix of dramatic drive and big comic set-pieces, driven by characters with weaknesses we can all identify with – realised by a talented and empathetic cast. Hard to believe but these are very wealthy young men you actually root for.
Written by Jon Brown, Loaded is the UK's answer to HBO's Silicon Valley, but on its own terms, with suitably awkward sensibilities and plenty of big laughs. It deserves to be as big a hit as Cat Factory itself.
• Loaded starts on Channel 4 at 10pm tonight.
Review date: 8 May 2017
Reviewed by: Steve Bennett
Recent Reviews
What do you think?