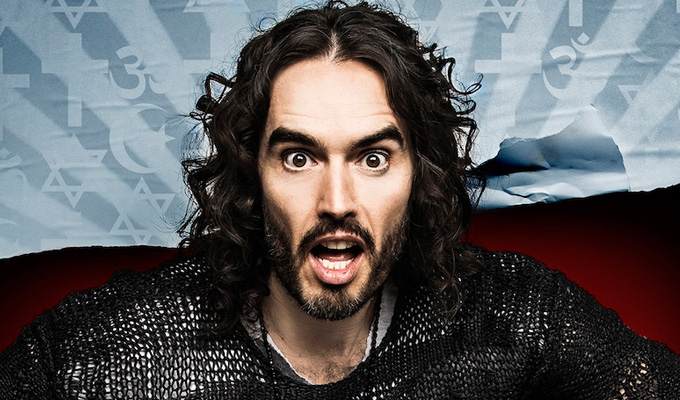 Russell Brand - Re:Birth
You remember all those times when Russell Brand was so vehemently certain of his views? Well, sorry, but now he says: 'Since I became a father I look at the world completely differently…'
The comic has the sort of flighty life that means every few years he can look back at what a plonker he was in his previous incarnation, whether it be drug addict, serial shagger, Hollywood fame-junkie… and, most latterly, unlikely political tastemaker.
Remember that Ed Miliband interview in his flat? The angry Newsnight exchange with Jeremy Paxman when he urged everyone not to vote? Or, worst of the lot, his run-in with a Channel 4 newsman in Downing Street over gentrification? Brand does, and often with a shiver of cold-sweat embarrassment.
Driven more by narcism than altruism, he felt he could change the world – and subsequently had opprobrium poured on him from every direction – from the Daily Mail to Donald Trump, never a man to let his position elevate him above a petty schoolyard feud.
In person, and on his own terms of a stand-up show, Brand is less strident than his petulant media appearances project. He remains, of course, a charismatic popinjay - but also acutely aware of his own ridiculousness, even without the tabloids to point them out.
Case in point was when he visited a woman whose full-time NHS salary was not enough to feed her family… yet he left, in his chauffeur-driven limo, with a gift of food she could ill-afford. This is probably the funniest routines of the night, and one that best encapsulates the theme of how his well-meaning activism can often go awry with his astutely self-effacing comments about how ridiculous he can appear.
His TV appearances are dissected, like a slow-motion action replay. and the out-of-context newspaper headlines relived. It's endearing that he mocks himself in the same way his critics would, while also feeding the ravenous ego to keep the show all about him.
Though he says his priorities have changed, his fundamental beliefs in equity, spirituality and at the power of community remain undimmed. We even all get a free Hare Krishna cookie. But certainly the welcoming of little Mabel into the world has give him new food for thought about these things.
It has certainly given him a graphic description of childbirth, in which he enjoys puckishly playing with images that are not for the squeamish. Apparently his mother-in-law was in the Woking audience tonight, so that'll be an awkward conversation for later.
As you'd expect, Brand continues to sell his flamboyantly eloquent routines with the brash chutzpah of a Victorian sideshow barker, playing up his Essex cheeky-chappiness even though he's now 41 and living in exquisite Henley-upon-Thames.
Re:Birth is a show of two halves, though, with the pre-interval section notably scrappier, as Brand reads out embarrassing stories that his audience – in their folly – submitted beforehand. There's plenty of knockabout banter, and of course the crowd love the personalised improv, especially when he calls back to it in the prepared part of the show later, but it's not that special. Indeed, further down the comedy pecking order, Alexis Dubus's French alter-ego Marcel Lucont does a better job on his Whine List show.
But amid this he plants some seeds for the more impressive second-half bonfire of his own vanities… even if said vanities are most likely made of asbestos, ready to emerge again.
• Russell Brand - Re:Birth is on tour until late 2018. Dates and tickets.
Review date: 4 May 2017
Reviewed by:
Recent Reviews
What do you think?