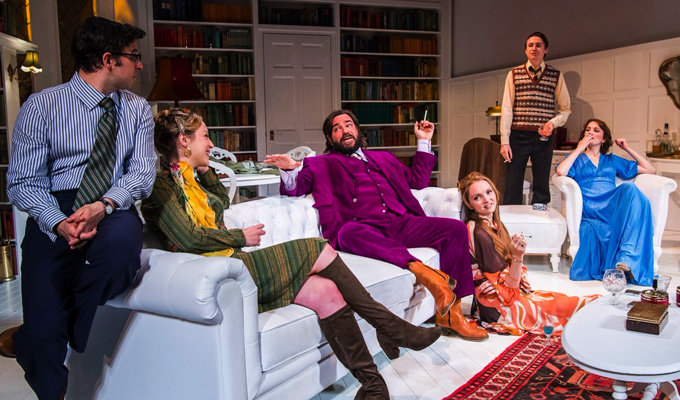 The Philanthropist
Philip, the central character in The Philanthropist, is a bland university don so eager not to cause offence he cannot bring himself to have a critical opinion on anything. But even he might not find enough noncommittal platitudes to flatter this strangely stagnant production.
Despite its enviable cast of sizzling hot comedy names – Simon Bird, Matt Berry, Tom Rosenthal and Charlotte Ritchie – there's nothing in this revival to suggest why this play helped make Christopher Hampton such a theatrical hotshot when it premiered in 1971.
Events are based around a dinner party in academia which sets to contrast Philip's dull lack of conviction with the cynical controversy-seeking of flashy purple-suited novelist Braham Head, played by Berry, a Katie Hopkins prototype if ever there was one.
Maybe in 1971 it would have been edgy when his character brings up masturbation to provoke fellow dinner guests, but here it falls flat… and it's not the first or last exchange to do so, as director Simon Callow just hasn't been able to make the material sing like it should.
All the characters are detached both from the world – a terror attack that wiped out half the Cabinet is mentioned only in passing – and from their own emotions. When Lily Cole, as the strangely-accented seductress Araminta, reveals her uncle raped her at 12, it's with all the feeling of the voice that says 'cashier number 4 please' at the Post Office. Deliberate, but such shallow coldness dampens any drama.
What's more of a surprise given this cast's credentials that some of the comedy goes AWOL, too. There are certainly pithy witticisms in the script that are guaranteed a giggle, from Philip musing 'I'm a man of no convictions… At least I think I am' to Braham's pithy put-down: 'Nothing is cruder than an excess of subtlety' – but many miss their mark.
Bird brings his trademark awkwardness to the lead role as the vacillating nice guy, whose eagerness to please ends up backfiring badly. He has some impact when he finally explodes into rage, too, but his flip into emotional turmoil isn't convincing … it just sort of happens. That his nebbish academic character is incapable of seeing nuance doesn't mean he shouldn't project some.
Rosenthal does better with a simpler character, the talented but lazy Don, while Ritchie is the stand-out as Celia, bright in mind and temperament, who belatedly comes to realise she shouldn't content herself with an engagement to wet-rag Philip. She brings more than is on the page to what could have been a two-dimensional character, the inverse of the rest of the cast.
Berry, especially, comes across as remarkably subdued. He has the same mangled cadences as Steven Toast – or even his Absolute Radio voiceovers – but with little power, and never convinces as the charismatic bad boy he's supposed to be.
Across the board, supposedly soul-searching scenes often come to sound more like shallow, self-centred millennial whines than the intended existential angst. Is that just down to the actors, younger than usually cast but closer to Hampton's original vision, or how they've been directed? Either way, The Philanthropist feels disappointingly flat.
• The Philanthropist is on at Trafalgar Studios until July 14. Here are our interviews with the cast.
Review date: 27 Apr 2017
Reviewed by:
Recent Reviews
What do you think?