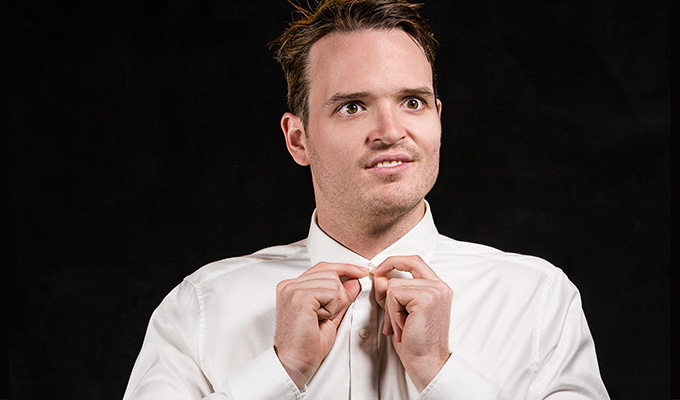 Tom Walker: Bee Boo
Oh, this is a gloriously, relentlessly, irrepressibly unhinged blast of off-the-wall insanity; a white-knuckle ride of manic enthusiasm enough to give prop comedy – or even the adjective 'zany' – a good name.
Tom Walker shows a level of inventiveness in his potent visual comedy that would make Tape Face jealous – though he's nowhere near as family-friendly as the gaffer-gobbed mime, since he sometimes takes his comedy to brutally dark places behind that broad, daft grin.
Combined with his staring eyes, the expression is reminiscent of a young Jim Carrey. But more importantly, Walker has the fierce intensity of the Hollywood star at his most frenzied, forcing his savage anarchy on to the audience with an irresistible force of personality.
A great through joke is the idea that this is not for everyone, with Walker recalling past walk-outs and the hate some of his odder moments drew at last month's Adelaide Fringe. Not only is this very funny, it also strengthens the bond with us, the cool kids who get his weirdness, a community aside from normal life.
To explain any of the gags would be futile, they're meaningless even in context, let alone stripped of this insane clown's faultless commitment to the joke that extends to almost unbelievable extremes. 'WTF is he going to do next…' is the predominant mood of the hour.
Gone is much (but not all) of the audience participation which hallmarked his best newcomer-winning show of 12 months ago, dropped in favour of an exhilarating, undiluted hurtle through Walker's oddest thoughts, accompanied by a deranged commentary cheerfully acknowledging the stupidity and futility of every`preposterous bit of business.
Walker says everybody will find at least one bit of the show they won't like, and for me it was the mime at the end. Rather unfortunate as that went on for ten minutes, while most other gags don't last ten seconds in this furiously fast-paced carnival of the crazy. But plenty more in the audience adored this final sketch's mix of absurdity and filth, so chalk that up to taste.
That aside, Bee Boo is an exhilarating romp through a wildly inventive world, powered by Walker's raucous, savage energy. Strap in!
Review date: 14 Apr 2017
Reviewed by: Steve Bennett
What do you think?