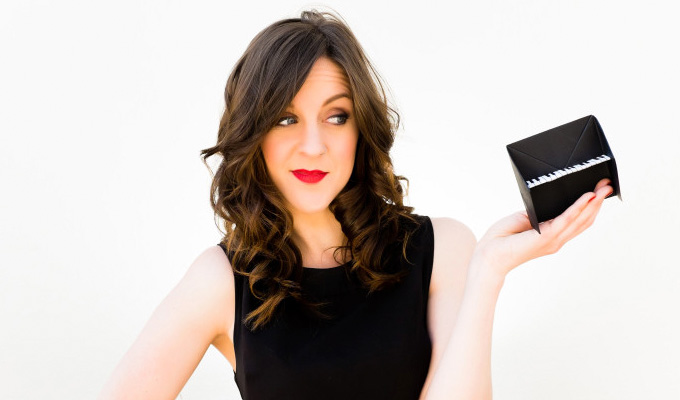 Gillian Cosgriff: 8 Songs In 8 Weeks
She's quite some talent, is Gillian Cosgriff. This show is simplicity itself, merely performing the promised number of songs that she wrote over the two-month period – but they display a wry imaginative wit, an accomplished musicality and a versatility in styles and emotions that make for a rich and impressive show.
Nor does she even need a full week to write a track, as she proves by virtually improvising one during the hour – tonight it was based on the brilliantly petty gripe of people who use 'cc' instead of 'bcc' on group emails. Another display of her virtuosity, as well as her quick-thinking.
However, you never need to make concessions for the speed in which the songs were composed, as they are lyrically tight and musically catchy.
Some are based around her life as a middle-class white woman putting youthful things aside as she hits 30, not least the number that more accurately describes a trip to da club than any hip-hop poseur with their VIP access and hos in tow. A similar reality gap is exposed when receiving an email mis-addressed to Felicia Coco prompts her to imagine the glamorous jet-setting life someone with that beguilingly chic name must live.
Elsewhere, Night Thoughts is a brisk romp through the peculiar notions that keep her awake at night, a fine excuse to assemble some offbeat notions that might form the basis for stand-up routines in the hands of other comedians.
But music is Cosgriff's forte – though an odd tale of a modern-day ghost ship is very well-told – and she displays an efficiency and a creativity in the lyrics.
Inevitably such skills might invite comparisons with the king of musical comedy, Tim Minchin. And like the Matilda composer she also has a sentimental Christmas songs that spurns the clichés; hers being about the anticipatory joys of December 23 rather than the madness of the big day itself. It's one of a couple of numbers that plump for pulling on the heartstrings over tickling the funny bone.
Cosgriff doesn't have the bold personality of Minchin, though, and we don't get to see much of the woman behind the songwriter, the thoughts and ideas that drive her. Scraping beneath the surface of her personality would forge a stronger connection and give her songs even more emotional bite.
But that does not detract from the fact that this is a formidable showcase for this brilliant cabaret performer's considerable skills.
• Gillian Cosgriff has now finished her run of 8 Songs In 8 Weeks at the Melbourne International Comedy Festival.
Review date: 12 Apr 2017
Reviewed by:
What do you think?