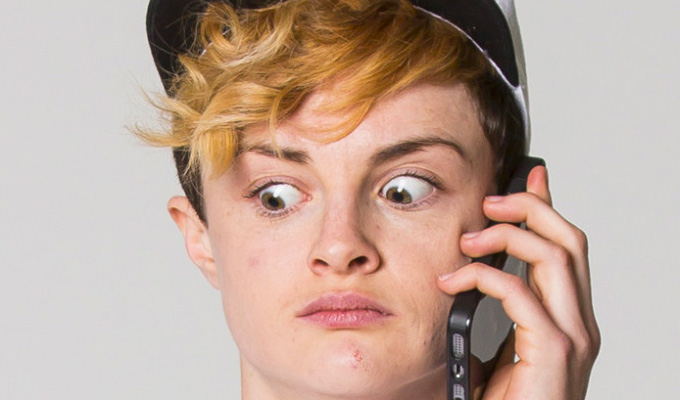 Demi Lardner: Look What You Made Me Do
Note: This review is from 2017
In her new festival show, Demi Lardner plays a man. And that man is Sam Simmons.
Her alter-ego is actually a 46-year-old called Gavin who's trapped in his basement with only his weird thoughts and a call-centre worker for company. But in the relentless cavalcade of stupid non-sequiturs as she engages with a disembodied voice, she very much calls to mind the Barry and Edinburgh award-winner.
However 'all art is derivative', as the artist said, and the similarities in style do nothing to detract from this full-throttle carnival of the absurd, full of jingles, cheaply-made prop gags – and the most elaborately silly pun of the festival.
Nothing sticks around for long, but the strike rate is impressive as she plays inventively with words and ideas, most enjoyably when deploying her trademark device of coining new synonyms for everyday items. Caterpillars become 'leggy worms', for instance.
The glue that holds all the random madness together is a phone call (with fellow comic Angus Brown as the voice on the line) in which Gavin tries to sort out his life insurance, being asked all manner of peculiar questions. Whether this is supposed real or just a hallucination is a moot – but also irrelevant – point.
For the real message here is… come off it; there's no message, it's just manic, inventive mayhem – although the chaos hangs together surprisingly well, thanks to a few running jokes and delayed denouements, but mainly the overarching spirit of foolishness.
Lardner loves the anarchy and gets the audience to buy into it with some typically daft (but non-threatening) interactions. She acknowledges the very idiocy of what she is doing, but that doesn't affect the conviction with which she does it.
Look What You Made Me Do has been directed by Aunty Donna's Mark Bonanno, and certainly Lardner is performing with the same high-octane energy as that livewire sketch trio.
It's something a change of gear for her, but all the better for it. Last year I wrote of her more conventional stand-up show: 'She's not a comic who needs a gimmick to entertain.' Yet here is an hour that's nothing but gimmicks, and it works brilliantly well.
Review date: 12 Apr 2017
Reviewed by:
Recent Reviews
What do you think?