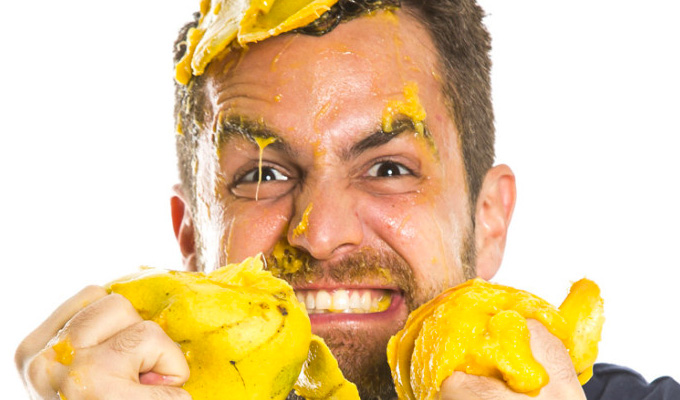 Ivan Aristeguieta: Juithy
Venezuelan expat Ivan Aristeguieta sometimes tags his punchlines with a cheeky boast about how well he's doing and how eloquent his material is, especially considering that he's performing in a second language.
That's certainly true, and this super-confident, super-effervescent, super-charming comedian has learned the language of stand-up, too. Each routine is carefully choreographed with the rhythms and cadences to keep the laughs coming, and often end on a flourish or perfect beat of silence that encourages an applause break.
It is a hugely effective performance, especially when you add in some structural engineering to the routines with callbacks and recurring themes to hold everything together.
What's lacking, though, is a bit of substance. He complains impishly about Australia's first-world problems, celebrates the great Aussie invention of avocados for breakfast – and does a really rather ropey, and pointless, Donald Trump impression that nonetheless draws another ovation.
It all seems a little shallow, mildly amusing observations sold on the strength of his formidable personality, with optimism the watchword. Even when he recalls Venezuela, the main lament is that he misses the free juicy mangoes hanging on every tree more than the descent of his homeland into corruption, crime and free-falling economy.
He is aware of this charge of superficiality, complaining that it means he only every gets three-star reviews. So he apologetically introduces a backstory - 'a bit that's not funny' – to try to lend some pathos and butter up the critics. Thus he shoehorns in a section about his divorce after 16 years of happy marriage soon after he arrived on Aussie shores, a heartbreak he likens to the split from his homeland.
But it doesn't sit well, not least for exposing the workings of his stand-up that previously passed most punters by. And, no, it isn't funny enough, nor emotionally sincere enough either - it does indeed seem like the fig leaf of substance he billed it as.
It's easy to like Aristeguieta's sassy, optimistic style and energetic execution, and he's clearly grafting hard to become a mainstream comedian, but we're left largely in the dark about what drives him, what his passionate thoughts are. That's why the show – as breezily entertaining as it is – is more watered-down cordial than properly juicy. Sorry, but, it'd be another three – well three-and-a-half – star show for me.
Review date: 3 Apr 2017
Reviewed by: Steve Bennett
Recent Reviews
What do you think?