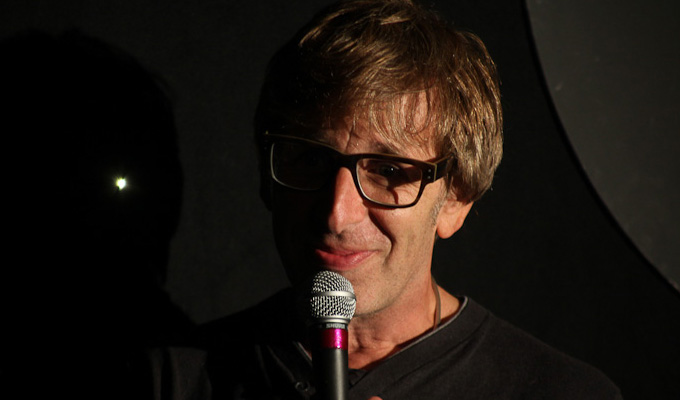 Comedy Bigmouths
Two words to describe My5's new topical series Comedy Bigmouths would be 'low' and 'budget'.
The set is as pared down as it's possible to be, the audience is so small it could be a London open mic night, and the interview with Ross Noble takes place around a table that the guest accurately likened to the furniture in Wetherspoons.
But despite such shortcomings, Comedy Bigmouths is an entertaining and funny diversion. It's never likely to give The Daily Show or Jon Oliver a run for their money, but as an additional outlet for stand-up on a TV station not known for comedy, it does a decent job.
What is notable is that it has raided the circuit for its talent rather the same old big-agency faces that fill most panel shows. Of the main panel, only Zoe Lyons might be familiar to terrestrial TV viewers.  Again money was probably a factor in choosing the line-up. 
Ian Stone is a capable host, with skills honed over years of The Cutting Edge at the Comedy Store. His opening monologue is gaggy, if very brief, and nicknaming the PM 'Mother Theresa' could just catch on. The only criticism would be that as an interviewer he interrupts Noble's flow needlessly often when it would be better to let what was clearly a prepared routine flow. And a very funny routine it was, too, suggesting a silly cost-cutting measure for the NHS before segueing into a jaunty parody of blame-the-foreigners rhetoric.
On the panel, Lyons is introduced as a living stereotype of a Brighton-based lesbian, while Ian Moore bucks one, for being an Englishman who's learned French. And Geoff Norcott is capitalising on his position as possibly the only out-and-proud(ish) Tory and Leave voter on the circuit by offering a different point of view. The first gag at his expense was countered as being 'the first lie of the Liberal elite.'
All offer a couple of good jokes, although sometimes the format is more light chat, giving the show a jolly-but-superficial air, edging into Loose Women territory. 
Some of the conversation is prompted by Stone, some by Question Time-like contributions from the audience (although both were about a possible second Scottish independence referendum and both a little too serious, so the questions were danced around). And the panellists also bring some lesser-known topics with them; Lyons's snakes on the plane leading to a great pun from Noble.
So while expectations might not be high for a topical comedy show on the edges of the digital programme guide, Comedy Bigmouths makes a solid effort for a first episode.
• Comedy Bigmouths is on My5 at 10pm tonight.
Review date: 31 Mar 2017
Reviewed by: Steve Bennett
What do you think?