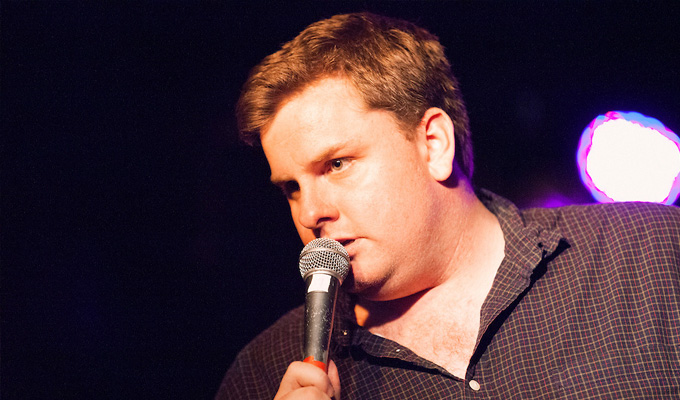 America Stands Up 2017
Arriving towards the end of the Glasgow Comedy Festival, the annual America Stands Up showcase is invariably worth putting in the diary. Having given UK debuts to the likes of Hannibal Buress, Kyle Kinane, Marina Franklin and W. Kamau Bell, it tends to feature a compelling mix of slick, New-York-scene confidence and the rawness of acts with just a few days to sharpen their cultural references.
For the first time, the compere is a graduate of the show and not a long-term resident of the UK. And Hailey Boyle is a fantastic example of someone speaking the same language but offering something a little different to the stand-up available on these shores. An Edinburgh Fringe veteran, she's at home mocking the 'little men' in her front row but unapologetically packs her segments with dick and vagina jokes, the occasional crudeness and gynaecological detail of her imagery more than justified by the aggressively playful panache with which she presents it.
Although it's difficult to imagine many British female comics being afforded the space to revel in their promiscuity and enjoyment of anal sex without being pigeon-holed or pejoratively dismissed as 'dirty' or 'filthy', Boyle enjoys and exploits her novelty, a larger woman throwing good-natured shade at 'skinny chicks' and whose efforts to be a better feminist extends to fantasies of raping rapists. Pregnant through her toyboy Jamaican 'babydaddy', she bulldozers dissent from the crowd when she reiterates her preference for black over ginger penis, with sexual attraction having little respect for equality and politically correct sensitivities.
Race is as charged a topic as ever in America and Jordan Carlos's set only truly catches fire when he removes his glasses to capably impersonate Barack Obama and Donald Trump, noting the frisson when an African-American mouths the inanities of the sitting president. Spun out of an amusing scenario in which he re-applies the sexual practices of humpback whales and rats to human copulation, it's the highpoint of a performance that takes a while to warm up, with his initial mentions of therapy and the size differences of umbrellas failing to land with the predominately Scottish crowd.
The children's books Curious George are not a familiar touchstone in the UK, either, as he discovered too late. But he's relaxed and witty on how pop culture is aimed at the newly in love rather than those in the comfortable rut of a long-term relationship. Similar to Tom Stade's material on the subject but distinctively his own take, Carlos joyfully picks apart rom-com clichés with the jaded subtext of his own situation, to much more fruitful laughs of recognition.
Mental health has become a significant focus for many British stand-up shows recently. But notwithstanding artful exceptions like Terry Alderton, we're some way from it being a regular feature of club sets. Yet Aparna Nancherla projects her depression as her defining characteristic, drawing you into an off-kilter world where the slightest social faux-pas can bring on an existential crisis.
Dry and diminutive, she's doesn't seem like a natural performer, more suited perhaps to her television writing job. But she's also smart and original, worth making a bit of an effort for, with virtually every scenario she evokes an intriguing glimpse into the mindset of someone who spends maybe too much time in their own head, like a severely buttoned down Maria Bamford.
Occasionally, as when she veers into more workaday observations, like on the complex-provoking effects of women's magazines, her understated delivery means the set flags a little. Endearingly though, she then shares her experiences of online dating, the blunt, boneheaded optimism of her would-be suitors and her own, philosophical responses a winning, often hilarious combination.
Finally, Tim Dillon, an antidote, he assures us, to all the diversity that's come before, just the sort of overweight, white schlub that got Trump elected. Happily though, while he projects the sort of brash, straight-talking we tend to associate with New Yorkers, there's more to him than initially meets the eye, more even than him being an unlikely looking swimming enthusiast.
A former tour bus guide with greater appetite for seeing the local McDonald's menu than visiting Glasgow's museums, his laziness and bullshitting inclination go hand-in-hand with dubious people skills, prompting some enjoyable blasts of observational invective against millennials and hipsters.
Though he plays the blowhard, Dillon's mind is full of impish mischief, as when he recalls a benefit gig for 'runaway gays' in which he found himself extolling the virtues of remaining in the closet, or a devilish take on the life expectancy of HIV sufferers, persuasively arguing why such a diagnosis might be cause for celebration.
His previous occupation brought him into contact with tourists from all over the world, lending him the authority to be joyously dismissive of supposedly tolerant nationalities like the Dutch while being pro-Saudi Arabian, entirely informed by self-interest. And considering his recent arrival in the UK, he's already crafted an impressive perspective on The Great British Bake Off, while envisioning its more hyperbolic and competitive US adaptation.
He finishes with a seemingly throwaway account of being persuaded to jump into a river that nevertheless offers an appealing snapshot of his character and hints at the deeper flaws that could sustain a full-length show. Punchy and gloriously acerbic, but with vulnerable undertones, it's to be hoped that he gets to deliver it in this country soon.
Review date: 26 Mar 2017
Reviewed by: Steve Bennett
Recent Reviews
What do you think?