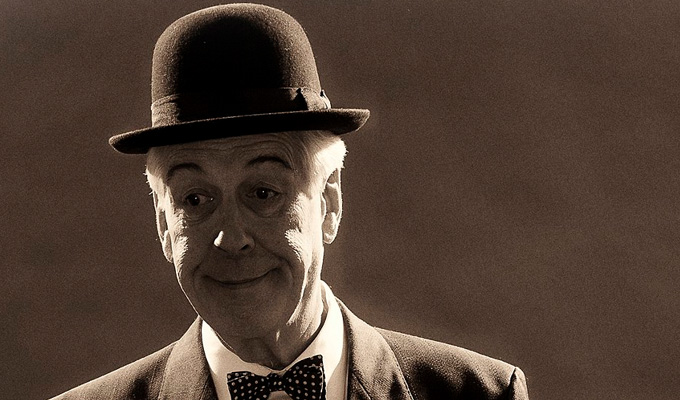 ...And This Is My Friend Mr Laurel
Jeffrey Holland is still best known to millions as Hi-Di-Hi's earnest holiday camp comedian Spike Dixon  – but it doesn't take more than a few moments on stage for him to shed that image and become Stan Laurel. Not in impersonation, for the most part, but in getting to the core of the man.
The play is set in 1956, soon after Oliver Hardy suffered a stroke which left him confined to bed and unable to speak for several months. So visiting his partner's sickbed, Laurel has to make all the conversation to try to cheer his stricken friend.
But the affable 'chin up' demeanour soon subsides as Stan starts reminiscing about the many ups and downs of their long lives and careers. Sure there are dizzying highs, such as the crowds that mobbed them on their UK tour which finally made them realise they were properly famous.  However, there was also the bitter disputes with manipulative producer Hal Roach, the compromises perfectionist Laurel had to make on subsequent big studio films, and agonising heartbreak in his sometimes messy personal life. The pair had ten marriages between them, but their own partnership was enduring, built on a unbreakable mutual affection.
The anecdotes are not chronological, and Holland, sometimes with only the subtlest of expressions, injects a lot of emotion into their telling, to avoid the trap every biographical play risks of just being a Wikipedia-type summary of the facts. There are some sluggish and occasionally repetitive moments in the script that Holland wrote with Gail Louw – not to mention the flawed premise that Laurel would ever bring up miserable memories in this situation anyway. But there are plenty more revelatory passages, and Holland's compelling performance more than compensates.
Occasionally in his reverie, Stan recalls some moments of Laurel and Hardy's on-screen life. It's here where Holland dons the familiar Derby hat and nails the expressions and personalities of both sides of the double act as he repeats their gags, some of which are now painfully corny. These are only ever brief punctuations, a touching reminder of their comic genius in counterpoint to the now incapacitated 'Babe' and past-his-prime Stan, trying to return to his beloved craft.
There is, of course, an in-built poignancy with any story of a clown in decline, but Holland largely avoids the mawkish, a hesitant rendition of On The Trail Of The Lonesome Pine notwithstanding. The affection he has for a comedian who was both inspired and inspirational, toiling tirelessly away to hone the comic talent he was born with, is palpable – ensuring this tribute is as heartfelt as it is fascinating.
Review date: 23 Jan 2017
Reviewed by: Steve Bennett
Reviewed at: Bristol Old Vic
Recent Reviews
What do you think?