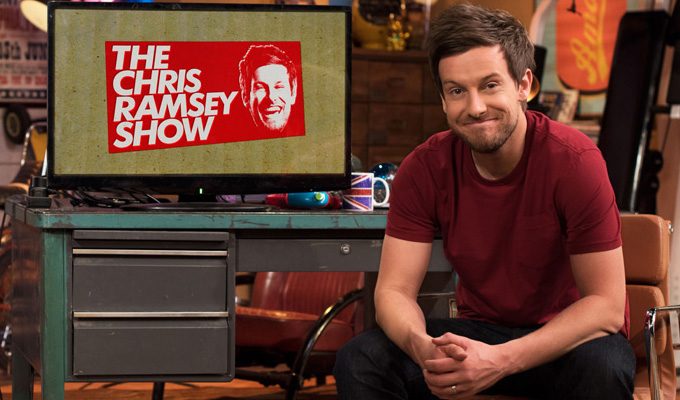 The Chris Ramsey Show
Note: This review is from 2017
'….and I'm going to see if I can find a dildo for a dog.'
Three sentences in to Chris Ramsey's first name-in-the-title telly show, and the bar is set pretty low.
Comedy Central are clearly aiming for a young demographic with this, and possibly a drunken one given a vibe that's more post-closing-time than the actual 10pm slot it's been given.
From a set that looks like a generic man cave – dartboard, neon sign, games console, table football, unused gym equipment – the comedian introduces various 'dumb games with celebs'. If you ever wanted to see Jimmy Carr twerk uncomfortably, this is the place to go.
He, and fellow guest Natasia Demetriou are also asked to decided if various moulded plastic devices are a pet toy or sex toy – 'a toy for your pussy or a toy for your pussy' as Ramsey inevitably puts it – or try to flip a spoon into a mug, like a bloke on YouTube did. The winner gets one of the toys.
Away from the studio, a segment that recurs over the series has been inspired by the incident in real life he arranged to get a pizza delivered to his train. Here he tries to undergo a makeover on the East Coast mainline to become a 'proper' Geordie fella – fake tan and pecs-flashing T-shirt – with the aid of his Virtually Famous colleague Vicky Pattison. This time no stylist would came to their aid, though, and the stunt doesn't really come off. 
The number of vodka shots both knock back probably doesn't help, but it's that kinda show. It is not a programme that will never be troubled by the word 'sophisticated'. Though at least one person is having a whale of a time, as Ramsey himself exudes a giddy excitability.
The finale has Carr and Demetriou gyrate along to the video game Just Dance, like a cheaper version of Dara O Briain's Go 8 Bit. And when the stage is invaded by a hen party to put the pair off, it feels entirely in keeping with the mood already set. This is the WKD of comedy.
Broadcasters are putting their faith in Chris Ramsey being the next Russell Howard in the 'cheery comedian with youth appeal' demographic, but this is a cheap and vacuous platform, even if his innate, good-natured likability keeps the show afloat.
• The Chris Ramsey Show airs on Comedy Central at tonight at 10pm.
Review date: 11 Jan 2017
Reviewed by: Steve Bennett
Recent Reviews
What do you think?