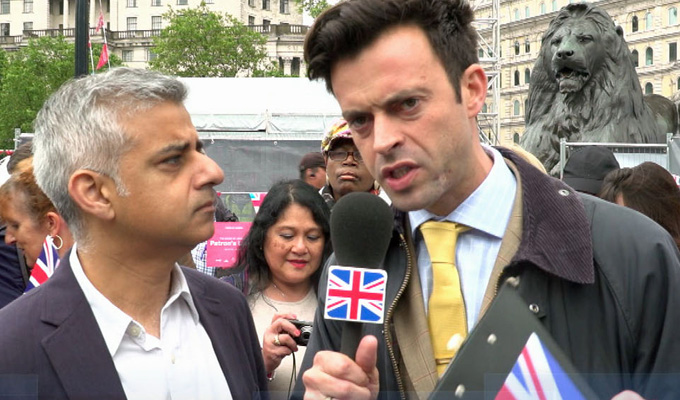 Revolting
YouTube has created a battalion of DIY pranksters – usually more irritating than amusing –and hidden camera stunts remain a rather too frequent go-to format for broadcasters,. So it is something of a challenge to stand out against such saturation.
Joylon Rubinstein and Heydon Prowse's main weapons in this fight are the characters they have created – including the likes of oleaginous Tory James Twottington-Burbage and Labour activists Penny and Robin, one an old-school socialist, the other a slick Blairite. These stock caricatures are not nuanced, but they are effective enough generalisations for broad-brush satire and political point scoring.
The pair's previous work, The Revolution Will Be Televised, concentrated mainly on these alter-egos ambushing high-profile figures. They've rowed back on that for this new series Revolting (though stunts such as trying to shame Google's Eric Schmidt over tax avoidance remain) and taken up the slack with more sketches.
Politics flavours most of their work, with each section introduced by scratchy genuine news footage piercing through the static, as if broadcast by pirates or the anarchists of V For Vendetta. Tackling topical issues can mean a skit about the crisis-hit NHS featuring Colin Hoult as a shattered doctor, or  Prowse's bogus Ukip politician Dennis Pound exposing the fury, hatred and brutality festering in some of the party's supporters once their guard is down in a terrifying real-world skit.
The duo's mainstream politicians are a little more straightforward, although Rubinstein takes a risk in taking the smarmy, entitled Twottington-Burbage into a London council estate (even if the hoary 'I grew up on an estate, too' wordplay he repeats is probably due for retirement). Another of his creations, Dale Maily the 'fearless hetero journalist telling you the right way to think', makes a welcome comeback to stress a point about the language of scaremongering reporting, in which he paints all radical thinking as dangerously extremist.
Not everything in Revolting fires. Taking a pop at being kept on hold seems tame, and their sketch imagining it as a romance between customer and the automated voice is strained, as, too, is the tax simulator scene. However their silliness is often well-placed. A spoof G4S advert for a private creche run by the prison contractors has some delightful images, while The Real Housewives Of ISIS makes a point about how impressionable Brits are groomed to join a murderous caliphate that's probably based on an overlooked truth. 
It can often be slightly uncomfortable when pranksters use real people as props for their silliness, and Revolting doesn't always avoid that; nor the feeling that in some cases (the Ukip footage excepted) the victims are only being polite and humouring the outlandish characters.
But there are certainlt enough amusing moments in Revolting, which could wind up as shareable, possibly viral, clips that will give those YouTubers a run for their money. YouTubers, incidentally, who are mocked with the outrageous clicktivist Hashtag, 'raising awareness of totes important issues' with tasteless and impotent campaigns. The parody might seem a little dated in this fast-changing social media landscape, but the barbs still wound.
• Revolting starts on BBC Two at 10pm tonight.
Review date: 3 Jan 2017
Reviewed by: Steve Bennett
Recent Reviews
What do you think?