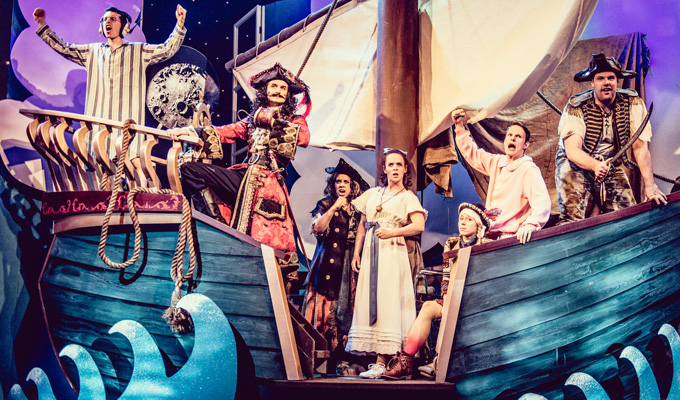 Peter Pan Goes Wrong, BBC One
Note: This review is from 2016
The BBC's recent comedy output has often been criticised for looking backwards rather than existing in the here and now. And with Peter Pan Goes Wrong resembling a panto with Frank Spencer in all the key roles, there is certainly a slightly old-fashioned feeling here.
But the execution is skilful, earning the show a place among slapstick favourites.
There is certainly a debt to Acorn Antiques with the missed cues, fluffed lines and misbehaving props, but the members of Mischief Theatre, which has had such success on the West End with its '...Goes Wrong' franchise, ramp the chaos up to 11.
This is a straightforward reconstruction of their stage show, save for recruiting the star power of a very game David Suchet. The conceit is that the BBC has commissioned the amateurs of the Cornley Polytechnic Drama Society to recreate the J.M. Barrie classic as part of its commitment to community theatre. Of course, they are not up to the task, and the wheels come off the project from the get-go.
The show's challenge is to keep surprising when the audience are already primed for mishaps. And while sometimes the relentless cavalcade of errors becomes normalised, creators Henry Lewis, Jonathan Sayers and Henry Shields have a knack of being able to pull an inventive stunt out of left-field. And, of course, the relentless rate and sheer scale of the lunacy wears you down.
That everyone's trying to maintain their dignity, and keep the show on the road at all costs adds to the desperation, and occasionally there's the suggestion of real injuries… it's not all cartoonish invulnerability to pain.
The cast, too, have strong physical comedy skills and an astute sense of timing. T Shields, as George Darling, trying to squeeze through a door wedged ajar is as fine a piece of business as you'll find in a classic silent comedy.
Sayer is perfectly witless as Dennis, deadpanning lines fed to him through none-to-subtle headphones; while the rest of the cast provide incomprehensible pirates, electrifyingly sassy fairies and lovelorn actors with aplomb.
They need a different sense of timing, too, if they're not to be belted by some collapsing scenery. It takes a perfectly-oiled machine to create something that falls apart so spectacularly.
Aptly for a show about the boy who never grew up, there's an innocence to the comedy here. The visual gags may often be predictable, but they are executed so well, and pile on so relentlessly, that there's a wealth of goofball, no-brainer fun to be had. The BBC goes right with Peter Pan Goes Wrong
Review date: 31 Dec 2016
Reviewed by: Steve Bennett
Recent Reviews
What do you think?