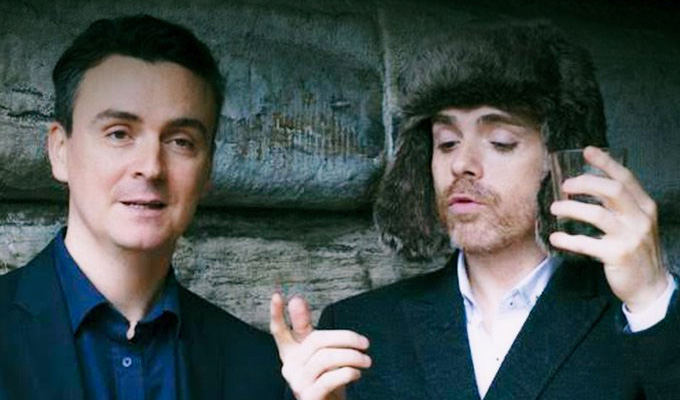 Uncles
Almost nothing was revealed in advance about this new show from Burnistoun creators Robert Florence and Iain Connell, yet Uncles greatly surpasses the expectations of mere work-in-progress.
The pair's stage adaptation of Burnistoun in the same theatre last year – and making its Edinburgh Fringe debut this August – was arguably weighed down by expectation and the need to deliver their most popular characters and catchphrases.
Unburdened by such concerns here, the duo made light of the grand theatrical setting for 90 minutes of constant laughs, ranking alongside the rascally pinnacle of their television work.
Stripping everything down to basics, the set-up is two middle-aged, self-declared 'sound cunts', chewing the fat in their local pub. With no set or props beyond a table, chairs and bottles of lager, the unnamed, archetypal protagonists put the world to rights as they catch up on each other's lives.
Reminiscent of Derek and Clive or the Smith and Jones head-to-heads, there's a self-conscious indulgence in patter for patter's sake. The dialogue opens with Florence telling his cohort that he's just achieved one of his lifetime ambitions, attending a gangster's wedding. Connell rubs his palms together in glee at the promise of the ostentatious, terrifying details to follow, 'the Oscars for Glasgow crims!'
Give or take a mention of Gordon Ramsay and the Glaswegian band Gun, this account and others, of Connell attending his son's school open day, or going berserk at his next door neighbour's out-of-control party, are initially rooted in relatable situations and smart social observation. These waggish rogues seem familiar, the kind you might see in the corner of any pub reflecting on their glory days and middle-aged irritations. Familial even perhaps, like one of your uncles with a drink in him and his tongue loose.
Even so, Florence and Connell are deceptively skilful storytellers, with the journey from the latter's paranoia at his neighbours going on holiday to him attacking his own son's trampoline with an angle grinder carefully built up to, the incremental escalation of his temper made doubly ludicrous for being accompanied by the pair's simultaneous, more considered reflections on the film My Cousin Vinny. These are tall tales for sure but with just enough reality to keep you hooked.
Maintaining a broadly united front in the first half of the show, not least as two blowhard lapsed Catholics berating a priest retrospectively about how he does his job, in the second half there's more agitation between them, inspired by a more surreal contemplation of multiple universes and parallel lives. At one point, Florence complains that his drinking companion 'thinks about things too much'. To which Connell counters that looking into the seemingly everyday, 'that's when you realise you don't think about them enough'.
Contriving a plan of genocide and calculated assassinations whereby the hopeless Connell might conceivably be considered for the Celtic first team; or a cruise catering only to their narrow, demographic of men nudging 40, into football and Jackie Chan, there's an underlying melancholia that these lads aren't as young as they used to be. Even while Florence remains the sexting gadabout with Connell as the combustible family man.
So much of this show is a straightforward delight in seeing how far they can spin the bullshit, as in the sheer number of different ways that Celtic legends can be murdered by a regretful but committed fan. And they won't be hurried, the longer laughter breaks accompanied by more measured swigs of beer as they patiently wait for the audience to retain composure, only the occasional aside or self-conscious grin breaking character.
The pair's background as sitcom writers serves them well in applying finishing touches to the stories, as when Connell's meltdown culminates in him waking on the green of the local bowling club, coming to with a jack to the head. Similarly, as both seasoned sketch performers and, in this incarnation, bar raconteurs, they know when they've wrung a situation dry and it's time to move on to the next story.
As with most lengthy drinking sessions, Uncle does go on slightly too long, with a final conversation about which chocolate bar wrapper might make for the best contraception a touch of silliness too far. The laddishness largely kept in check up to this point by the ridiculousness of their self-important grandstanding, breaks through slightly.
Still, from seemingly very little, Florence and Connell have assembled another great vehicle for their double act. So it's to be very much hoped that there's more from Uncles to come.
Originally posted: 17 Mar 2016
Review date: 11 Nov 2016
Reviewed by: Jay Richardson
Recent Reviews
What do you think?