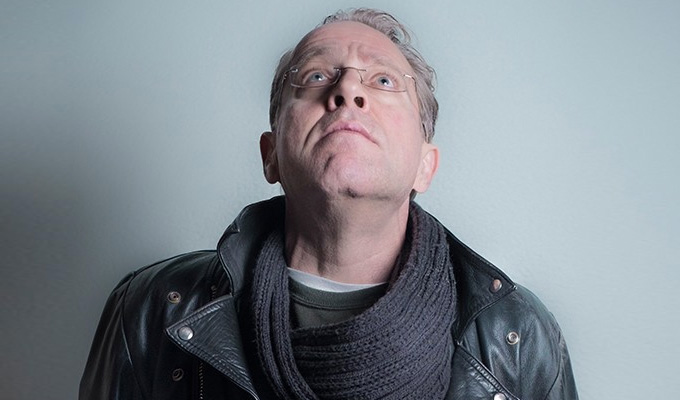 Mike Wilmot: Uncle
There's often a distinction made between club comics and more artistic theatrical ones: the kind who win prizes in Edinburgh and get London runs at the Soho Theatre.
As a self-defined 'dirty late-night entertainer', Mike Wilmot says he feels intimidated by playing such a venue, fretting about how the grubby wit that amuses him will play among the capital's sophisticates. But he need have no such concerns, for he's so accomplished that he raises the grubby into the realms of art, becoming a Michelangelo of muck, a Faberge of filth, a Shostakovich of smut.
And that can be taken almost literally, in the most virtuoso of all his routines in this brief Soho run. As he describes his pendulous balls slapping into his wife's backside as he takes her from behind, it becomes an hilarious rhythmic concerto of 'spanky, spanky, spanky', each rise and fall in tempo getting a fresh laugh, feeding in its own melody.
He never plays such segments for shock values, but finds humour in the absence of dignity. Likewise, when he deploys the C-word, it's less a 'bomb' and more a feather duster being used to tickle his audience – the contrast between a word that still has such power to offend and its playful deployment adding potency to the silliness. Ditto the jaunty 'racism' he fleetingly and cheekily deploys
There are no airs and graces with this affable Canadian – affectionately known as 'Uncle' Mike on the circuit, but actually a grandfather now – which extends to a casually brutal discussions of the realities of life. Much of that concerns what it means to be a 30-year-relationship with a now menopausal woman, in which frequent feelings of murderous frustration mix with comfortable mundanity, both stemming from the reality that there are no surprises any more. 'Most people think that's a bit of material,' he says after one routine… but it's not, it's his real life.
His gruff demeanour means can do pissed-off disdain when needs be, from his opening salvo about Donald Trump (despite insisting that political jokes are 'exactly kind of humour I want to stay away from') or the human statue he sees in Leicester Square. Though his contempt turns to reluctant respect as he vividly imagines the poor bloke's put-upon home life.
Whatever he's talking about, laughs come hearty and frequently, which Wilmot seems delighted by, as his initial wariness subsides. But he's proof that the best 'club' comedy has its own artistry,  which is all the more powerful for the fact it can play anywhere.
• Mike Wilmot: Uncle is at the Soho Theatre at 9.30pm until Saturday.
Review date: 10 Nov 2016
Reviewed by: Steve Bennett
Recent Reviews
What do you think?